Varsity Softball Goes to Nevada
This past weekend our ERHS Varsity Softball team competed in one of the toughest high school softball tournaments in the country. This year was the 25 annual "Tournament of Champions" and the fourth time Roosevelt Softball has participated. They were scheduled to play one game Thursday night at 5pm and two games on Friday and Saturday. The team knew they were up for a challenge when the tournament schedule came out and their first opponent was Redlands High School. Last year in the team's first round of CIF playoffs, they faced off against Redlands as a lower seated team and defeated them 1-0. The girls knew that Redlands would be coming for them even harder because of last year but had a tough week of preparation leading up to Thursday nights game. Roosevelt took the lead early but Redlands fought back. The two hour game came with multiple delays regarding light issues but our Lady Mustangs were able to keep their focus and pull out a big win.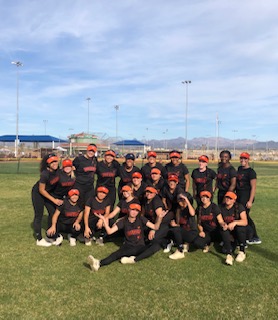 With one win under their belt they were then scheduled to play their first game on Friday against power house softball program, Los Alamitos at 1:30. After falling behind to Los Alamitos early in the first inning, the team was faced with the challenge of playing from behind. They scratched across a few runs to cut the difference in half, but couldn't fully catch up before the umpire called "Ball game". The loss set them up to play against Sagus High School at 5:30. Saturday was a tough day for our Lady Mustangs as they weren't able to pull out a win. Sagus shut the team out 4-0 which set Roosevelt up to play at 11:30am on their final day. Although unable to score, Junior Alyssa Watson was able to keep Sagus to a score of only 4. Her favorite memory of the trip was, "When I robbed a three run home run against Sagus." She also mentioned, "The whole trip was a super fun experience with my team."
Saturday's first game against ranked division one program Marina was a battle and our Lady Mustangs fought hard to come out on top. The girls won in an International Tie Breaker, which means they start the final inning with a runner on second. In just one inning our girls were able to score six runs. A grand slam from sophomore Alexia Lopez added four of the six runs to help the Mustangs come out with a 12-7. That game set the team up for their final match up against South Point Catholic High School. After a few controversial calls against our team they had to battle back to pull out another win. With the final inning approaching, our Mustangs had one last chance to score, and that they did. Up by one run, South Point was left with three outs to tie the score. Freshman pitcher Alyvia Hernandez was able to lead her team to victory, shutting it down in the last inning. Hernandez said, "The biggest challenge we faced was coming back from a loss like Los Alamitos and fighting back the next game and day." She expanded and said, "Coming back from a day of mistakes we can be back the next day stronger." The team celebrated their final win which mad them 3-2 in the tournament and overall 6-3 heading into their final week of non-league play. They are scheduled to play against Diamond Ranch High School on Tuesday, March 10 for their home opener game. Come support your Lady Mustangs this season as they have been moved to division one for their first season in program history.
About the Writer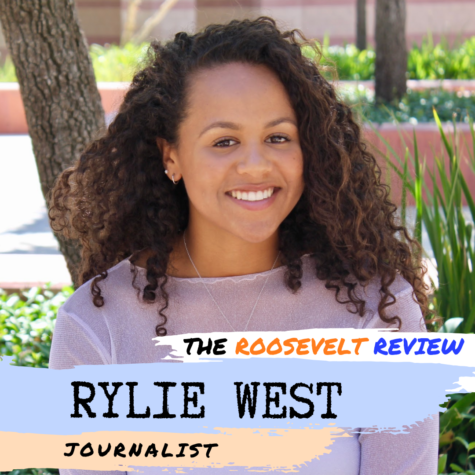 Rylie West, Journalist
Welcome back Rylie West to the Roosevelt Review. Rylie is a senior here at ERHS and enjoys writing and learning about the journalism field. Last year,...