ERHS HOSA Meets River Heights HOSA Jump Club
On February 7, the Roosevelt eSTEM HOSA (Health Occupations Students of America) chapter hosted the River Heights HOSA jump club to learn about Be The Match.
HOSA is a club that does anything relating to the medical field. They learn how to tie sutures, tie tourniquets, to take blood pressure, etc. Be The Match is an organization that has a registry to donate blood and bone marrow for patients with blood diseases. Hazel Lloyd, Eleanor Roosevelt High School junior and lab facilitator of the eSTEM HOSA, told me that, "Signing up doesn't guarantee you'll donate because you have to be a perfect match." When asked to elaborate, she said that, "People sign up and can get called to donate months, more likely years later."
The high school students collaborated with the middle school students to brainstorm ways to raise awareness and how to make the registry and donation process accessible and public. HOSA is trying to raise awareness because they need more diverse donors.  People must be eighteen years old to forty years old to register.
The Roosevelt HOSA also taught the middle school HOSA jump club about two different kinds of leukemia, acute leukemia, and chronic leukemia. They are both cancers that can be treated by the services offered by Be The Match.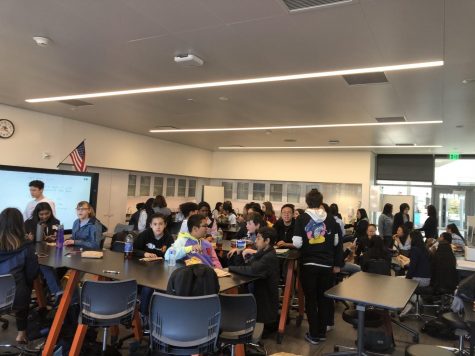 I was able to experience only one portion of the day, the lunch and the panel period. I got to watch as the River Heights students and ERHS students talked and bonded over there shared passions of the medical field. An eighth-grade student at River Heights, Thomas Bocter, told me that they spent the day, "Learning about the STEM building and what it has to offer." He proceeded to tell me how, "We learned about how leukemia is caused and the people it affects."
Overall, it was a truly knowledgeable experience for both parties. The high school students got to teach and lead like their future professions will need while the younger students were able to learn more about their field of interest.