Basketball Senior Night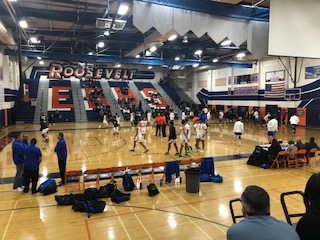 This week our boys and girls teams had their final league games at home which also means they had their senior night ceremony's. On Monday, February 3  the boys team played Norco on their senior night. Before the game started, each senior player was introduced, and walked with family members and friends in the center of the gym. The seven seniors introduced included, Devon Benefield, Amari Bailey, Isaiah Friloux, Luke Guzman, Bayo Kannike, and Bowdrie Moore. After pictures and congratulations for the seniors the game started. Coach Singleton for the first half of the game only played the seniors.  Luke Guzman had 22 points, Devon Benefield had 2o points, Brandon Porter had 11 points and 10 assists, and Bayo Kinnike had 15 rebounds. I asked Benefield how the senior night went and what his favorite memory as a senior for Roosevelt was, and here is what he said, "Senior night went really well. All the seniors had a really great time." He added and said, "We came out with the dub which was the most important thing. My favorite memory from ERHS was going to Vegas with the team."
Godfrey Little, one of the standout players on the team, but a junior said that the senior class, "Has taught me how to enjoy and cherish every moment with your friends and family because it may not last forever. The people I have grown up with and remember being kids with are now becoming adults and who knows where our relationships will go from here but I'm sure they'll all be successful." I also asked him how he felt senior night went as a junior looking in on it and he said, "This years senior night has definitely been my favorite senior night. I have a lot stronger bond with this group than any other I've played with. The game itself was one of the most fun games we've had all season and it was a special night seeing my brothers take a closer to step to graduating."
Girls basketball had their senior night against Centennial on Wednesday, February 5. The girls team has three seniors, Colleen Catapang, Rachel Nelson, and Michelle Onyiah. After a similar ceremony as the boys with family and friends, the team faced a challenge to beat the 2 place team Centennial Huskies who is 24-4. Our Lady Mustangs fought hard and continued to fight for the lead throughout the game. They fell to the Huskies 83-79. Congratulations to the team on a winning season and a special congrats to Michelle Onyiah for signing to play basketball at the University of California Berkeley.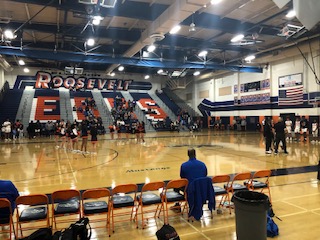 Good luck to both Mustang teams on their rode to becoming CIF champions, and good luck to the seniors as they take their next step towards their future.
About the Writer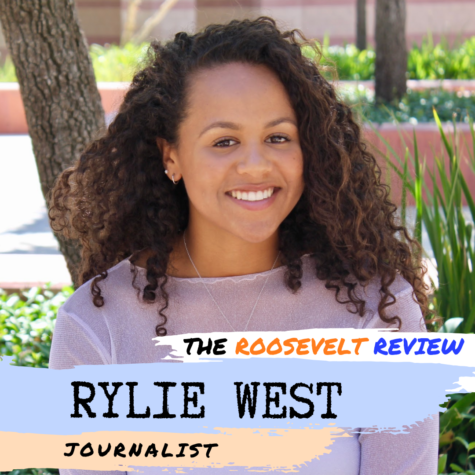 Rylie West, Journalist
Welcome back Rylie West to the Roosevelt Review. Rylie is a senior here at ERHS and enjoys writing and learning about the journalism field. Last year,...