8th Grade Parent Night
On Tuesday, February 3, Eleanor Roosevelt High School held 8th grade parent night. This was an opportunity for incoming freshman and their parents to get a feel for ERHS. With a preset schedule, students and parents from both Dr. Augustine Ramirez Intermediate and River Heights Intermediate School were able to take a tour as well as check out our many programs.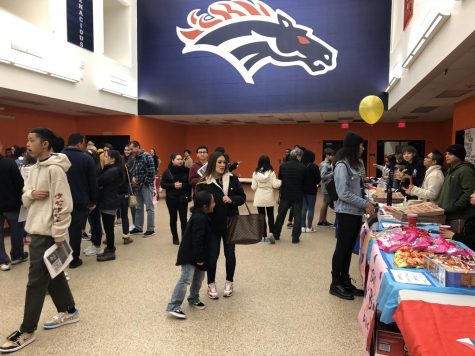 8th grade parent night started in the gym. It started at 6 p.m. with a welcome and admin presentation. This welcome presentation then promptly ended at 7 p.m. where students and parents took a tour to different classrooms. In these classrooms, programs such as Avid, Puente, and AP Human Geography gave presentations, giving parents and students an insight into what these classes would be like. The program tours ended at 8:10 p.m. Whilst these tours were going on, there was also an athletics presentation in the gym. Along with these many presentations, there was a club rush and food fair. In this club rush, it was a time for clubs to show students and parents what their clubs do and why they should join. FESA club president Hunter Liu states, "I think it was a really successful night for FESA. We got to see the future of our club among these young kids." Beyond persuading people to join their clubs, many other clubs were also able to serve food. Liu further states, "Although we did not actually serve food, we got to talk to many curious 8th graders and parents and show them what our club is about."
This was a great opportunity to calm down the nerves of incoming students and ease the minds of anxious parents. Parent Jenny Pham states, "I'm glad I took my son because he seemed very nervous about coming into high school." Not only was this a nerve easing experience but it was also very insightful. Pham further states, "It was nice to see these classes and sports because my son was interested in joining track. So this was helpful to see what he needs to do."Overall, 8th grade parent night was an insightful experience showing incoming students and their parents what Roosevelt has to offer.