Kamala Harris is out the of the Race, but is still in the fight.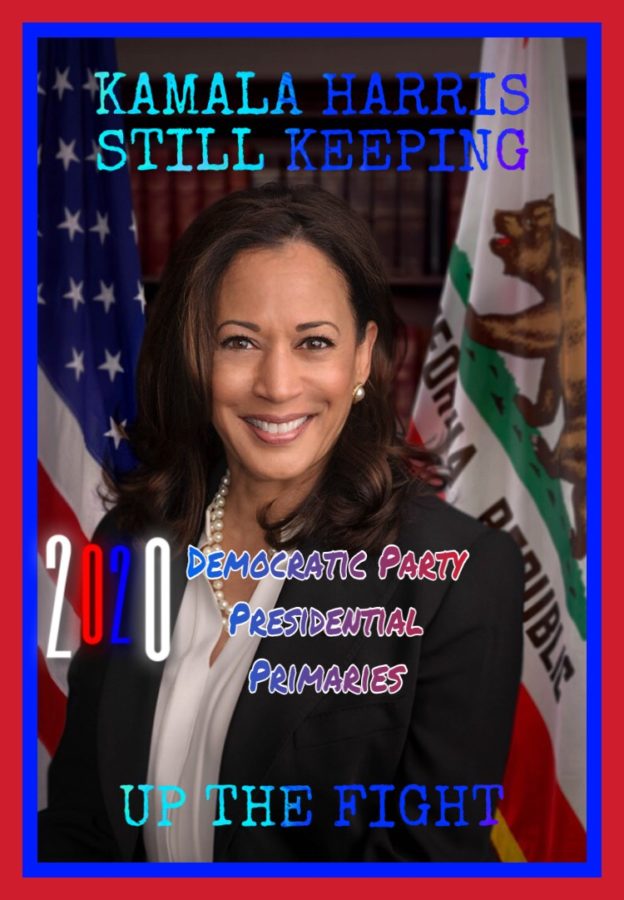 The California senator undoubtedly broke barriers but ran out of money as she struggled in polls. Her abrupt announcement is perhaps the most surprising development to date in the 2020 democratic race.
Senator Kamala Harris of California dropped out of the Democratic presidential race on Tuesday after months of low poll numbers and a series of missteps that crippled her campaign, a real deflating comedown for what seemed like a barrier breaking candidate seeking to become the first African American woman to win a party's presidential nomination. Harrison abrupt departure was and will however be seen as a leading contender for the Democratic nomination.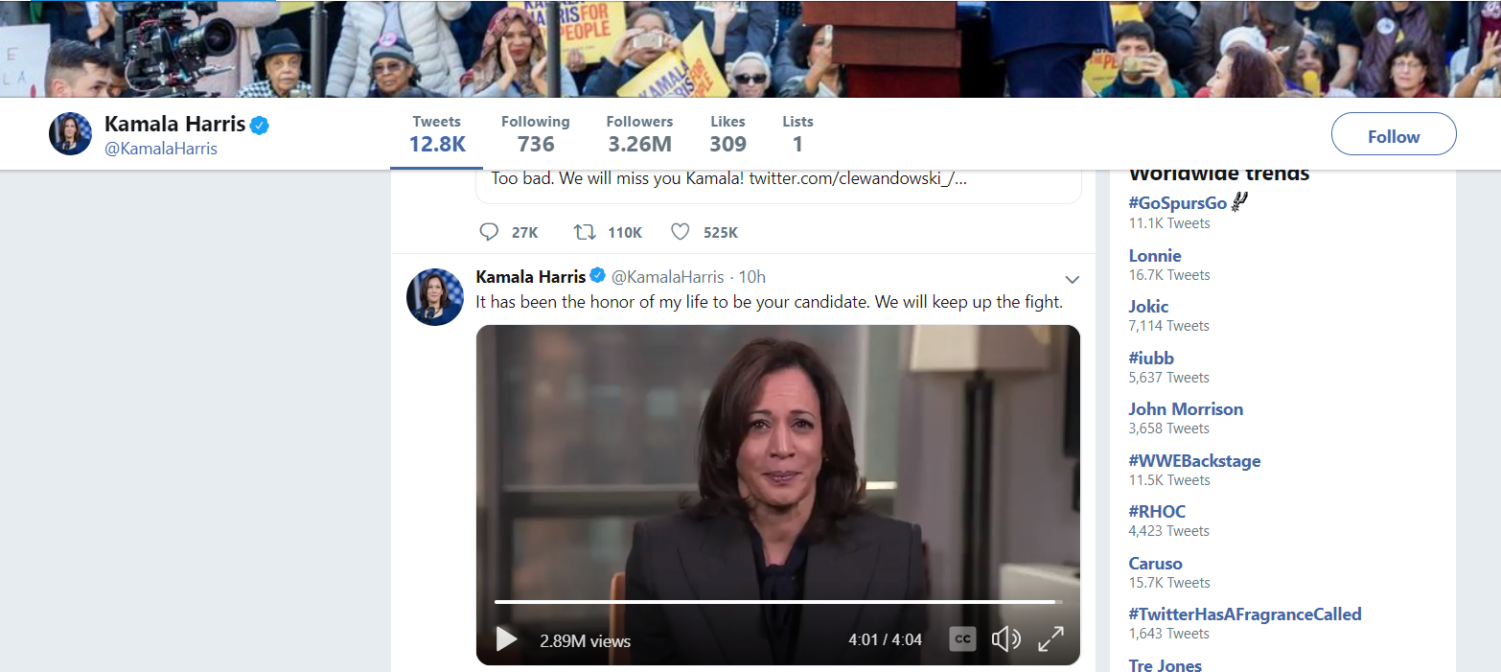 The California Democrat told her senior staff of the decision Tuesday morning, and later sent an email to supporters and released a video on Twitter.
"To my supporters, my dear supporters, it is with deep regret-but also with deep gratitude-that I am suspending our campaign today," Harris said in the video.
"But I want to be clear with you: I am still very much in this fight," Harris continued. "And I will keep fighting every day for what this campaign has been about. Justice for the people. All the people."
Senior Nolan Amkhong gave his thoughts on Ms.Harris' continuous efforts
Harris' exit from the race is a precipitous fall for a candidate who launched her campaign to high expectations. the senator has struggled for months to move her low poll numbers and said Tuesday that financial pressures led her to end her bid. the lack of support and money led to internal squabbling in the closing months of the campaign, all of which contributed to her inability to stay in the race.
Senior Nolan Amkhong gave his thoughts on Ms.Harris' unfortunate dropping saying, "Kamala has proven to have great spirit and to be a real first rate candidate in the race." Amkhong went on to say, "I have mixed emotions about it, because she is really a solid person and loaded with talent."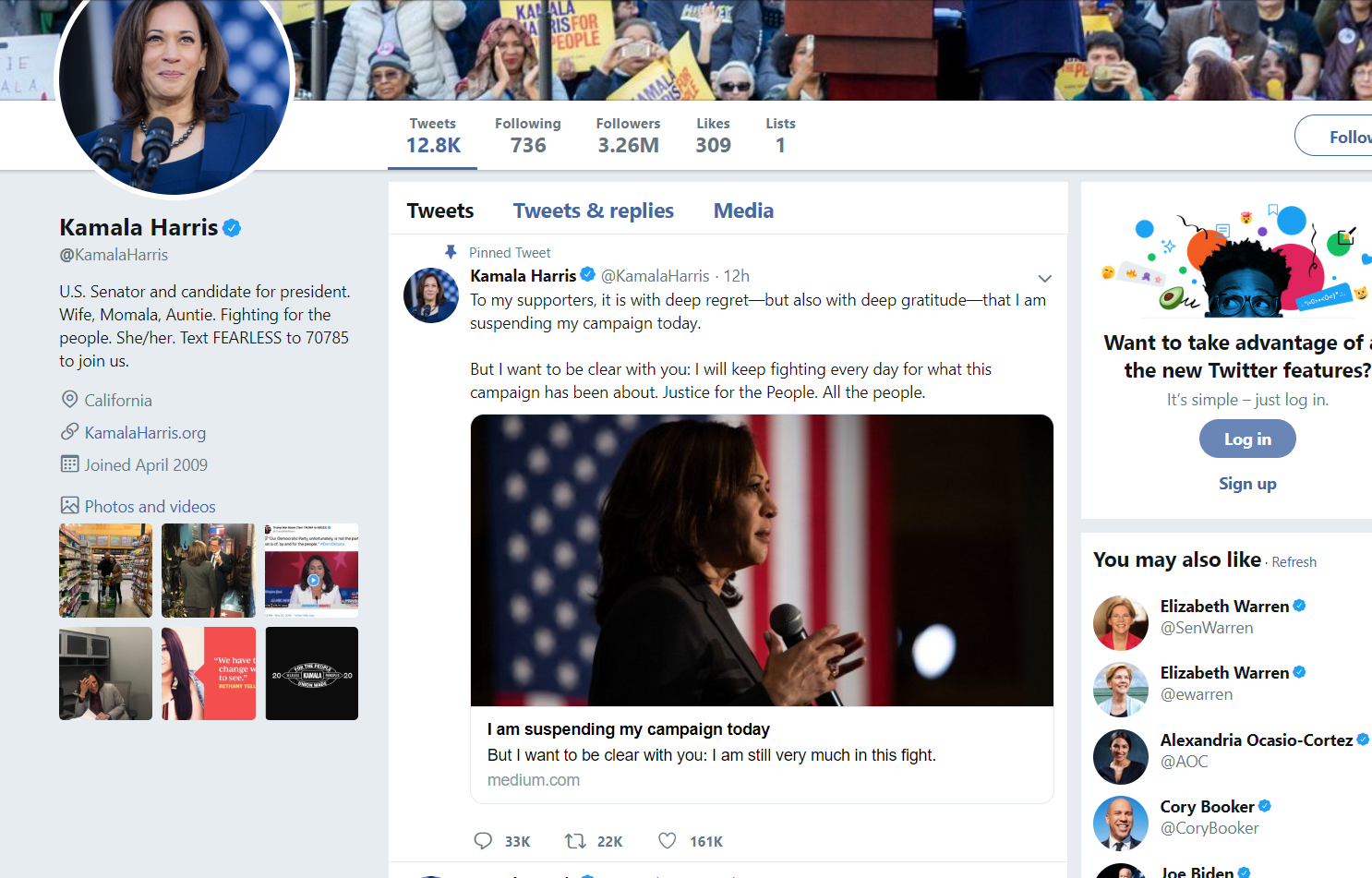 Harris proceeded in her statement, saying,"So here's the truth today. I've taken stock and looked at this from every angle, and over the last few days have come to one the of the hardest decisions of my life."  "My campaign for president simply doesn't have the financial resources we need to continue."
"I'm not a billionaire. I can't fund my own campaign. And as the campaign has gone on, it's become harder and harder to raise the money we need to compete," Harris said.
Harris plans on traveling to the early voting states this week to personally and privately thank staff and supporters there for their hard work and dedication.
Ms.Harris launched her campaign on Martin Luther King Jr. Day in January with a rousing speech in her hometown, Oakland California before, a nod to how her candidacy and possible nomination would be a historic moment for the country and democratic party, before an audience of 20,000 people drawing comparisons to history making African American politicians like President Barack Obama and Shirley Chisholm.
The announcement is perhaps the most surprising development to date in a fluid Democratic presidential campaign where Ms.Harris began in the top tier. Her departure removes a prominent woman of color from a field that started as the most racially diverse ever in a Democratic primary, and raises the prospect that this month's debate in Los Angeles will feature no candidates who are not white.
Ms.Harris sought to focus on incremental and deliverable change rather than the type of systemic upheaval popularized by rivals like Senators Elizabeth Warren of Massachusetts and Berine Sanders of Vermont.
But most immediately after her campaign began, Harris faced questions about her policy core that resulted in damaging news cycles. She reserved her position on single payer health care, removing herself from the "Medicare for all" bill sponsored by Mr.Sanders. Harris also struggled with how to frame her record as a prosecutor, oscillating between defending it against progressive criticism and embracing it in a play for more moderate votes.
Harris had struggled to gain traction in the race for months. The campaign, in a bid to resuscitate her presidential hopes, turned all of it attention to Iowa in the fall, pledging to keep Harris in the state as much as possible and telling reporters that anything less than a third place finish in the state would be a loss.
In addition to the financial troubles, some of Ms.Harris' supporters worried that a poor showing once voting began, particularly in the California primary, would leave Ms.Harris vulnerable to a Senate primary challenge in 2022.
Presidential candidates have dropped out after running out of money for decades, including Senator Kirsten and former Representative Beto O' Rourke earlier this year. In 2015, Scott Walker, then the governor of Wisconsin, famously flamed out of the Republican contest month before balloting began because he was short on cash.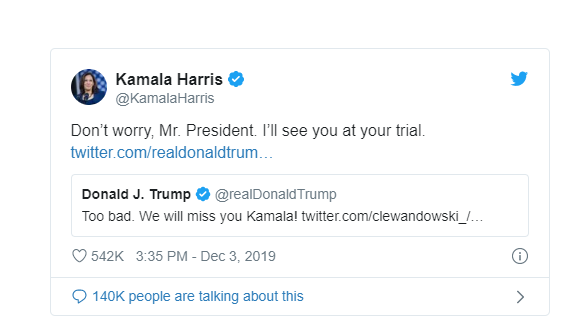 President Trump tweeted a farewell to Ms.Harris, saying, "We will miss you Kamala," to which she replied 10 minutes later: "Don't worry, Mr.President. I'll see you at your trial." Kamala Harris snapped back at President Donald Trump on Tuesday after Trump mocked her soon after she announced she was dropping out of the race to challenge him to next year's election.
Twitter erupted in the post's responses, where mic drop GIFs and flame emojis ran wild.
Harris was referring to her role in Trump's looming Senate trial, should he be impeached by the Democratic House of Representatives, which has been investigating him after he lobbied Ukraine to investigate his political rivals.
Ms. Harris' former rivals for the Democratic nomination quickly expressed their admiration for her on Tuesday.
"Her campaign broke barriers and did it with joy," Senator Cory Booker of New Jersey tweeted. "Love you, sister."
Ms.Warren praised her "Commitment to fighting for the people, for justice, and to holding Donald Trump accountable." The former housing secretary Julian Castro called her "a lifelong fighter for opportunity and justice for all Americans."
Mr.Biden, campaigning in Iowa, called Ms.Harris "a first rate intellect, first rate candidate, real competitor." however, he walked away when a reporter asked whether he would consider Ms.Harris as a running mate.
Riverside City College student, Justin Mercado gave a statement on President Trump and Kamala Harris' Twitter jabs saying,"I feel as though Trump was asking for it when he tweeted at Harris, he should have seen that coming." Mercado went on to say, "For someone who has been dealing with such slow momentum and strategic disarray, Kamala sure intends to go out with a fight and I'm more than sure she proved that to Trump."
About the Contributor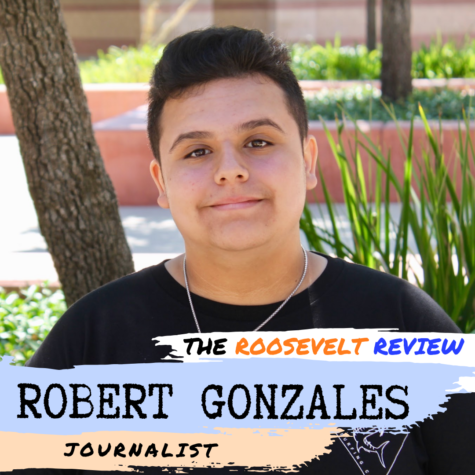 Robert Gonzales, Journalist
Robert Gonzales is a returning member and writer for the ERHS newspaper, The Roosevelt Review. He is currently a senior and plans on attending a university...