Club Spotlight: Key Club
ERHS News and Katie Taing
Among the many clubs on Roosevelt's campus is Key Club. Key Club is an international student-led organization that strives to better themselves as individuals well as their communities. Key Club encourages students to better the communities around them thought events such as street clean ups. Eleanor Roosevelt High School is part of the California, Nevada, and Hawaii district. In this district, ERHS is a part of division 15 east, the manta rays.
I got a chance to speak with Kaia Catron, Key Club vice president and a member of the division leadership team. She states that, "Key Club is an international organization that focuses on community service and fundraising to different charities." Along with fundraising, Key Club attends an event every year known as Fall Rally.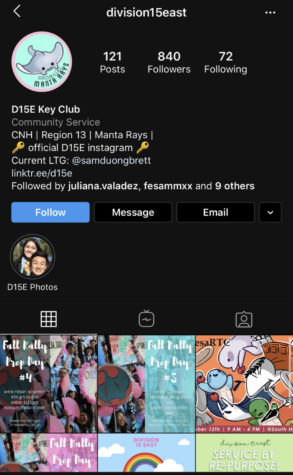 Fall Rally is an annually event held at Six Flags Magic Mountain. At Fall Rally, all different divisions meet at Six Flags to celebrate how much money they've raised for charities. While at Fall Rally, members participate in spirit battles against other schools. Senior Justin Wilmot, a Key Club member, states, "This is my first and last year going to Fall Rally and it was amazing." He also states, "It was fun to go against other schools showing off our spirit but also meeting other people from different schools." Towards the end of Fall Rally, all the schools get together at the Golden Bear Theater to participate in one final spirit battle. Key Club is an ever expanding organization that is always looking to have people join.
Although fall rally has already happened, Catron states, "It's never too late to join, there is always the opportunity that  you can go to fall rally next year." Key Club hosts meetings every Tuesday in room D205. To join their remind for information, text @erhskc20 to 81010. They also have an Instagram @division15east.