Tragic school shooting in Santa Clarita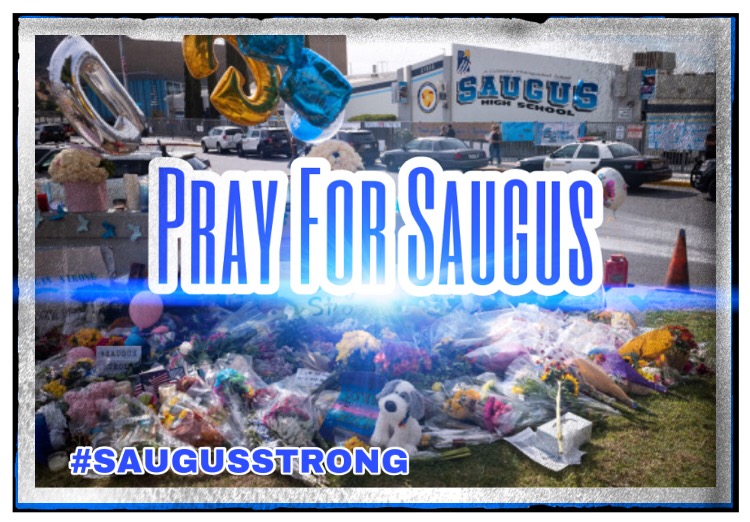 In Santa Clarita, California, frantic parents texted with teenagers barricaded in classrooms. Others offered sheltered to students fleeing their high school in this sleepy suburb north of Los Angeles on Thursday, Nov.15. It was the latest example of a wrenching sequence that has become a recurring nightmare for families in America.
This time it was a little later after 7:30 a.m. when a young man opened fire at Saugus High School in Santa Clarita, Calif. where two students lost their lives leaving three others wounded before turning the gun on himself, according authorities said.
Where things stand now?
There was a shooting at Saugus Highschool, about 30 miles of north Los Angeles, on Nov.15
Shooter in Custody
The 16-year-old male student was hospitalized in critical condition after shooting himself following the rampage however, authorities stated Nathaniel Tennosuke Berhow died at about 3:30 p.m. Friday, Nov.16 with his mother nearby.
There is no motive known for the shooting at Saugus Highschool and it is unclear what the connection is between the shooter and the victims other than they attended the same school. Paul Delacourt, assistant director of the Lost Angeles FBI field office, said there is no reason to believe the suspect was acting on behalf of any other group or ideology or that there were any conspirators.
The shooting took approximately 16 seconds from start to finish, Capt.Kent Wegener of the Los Angeles County Sherrif's Department told reporters. The shooter had taken a handgun from his backpack and shot five people before turning the gun on himself.
The Los Angeles County Sherrif's Department says it has investigated a number of online threats made against schools in the district however, none of the threats are believed to be credible.
The victims
Two students were killed in the horrific shooting leaving three other teens wounded on Nov.14.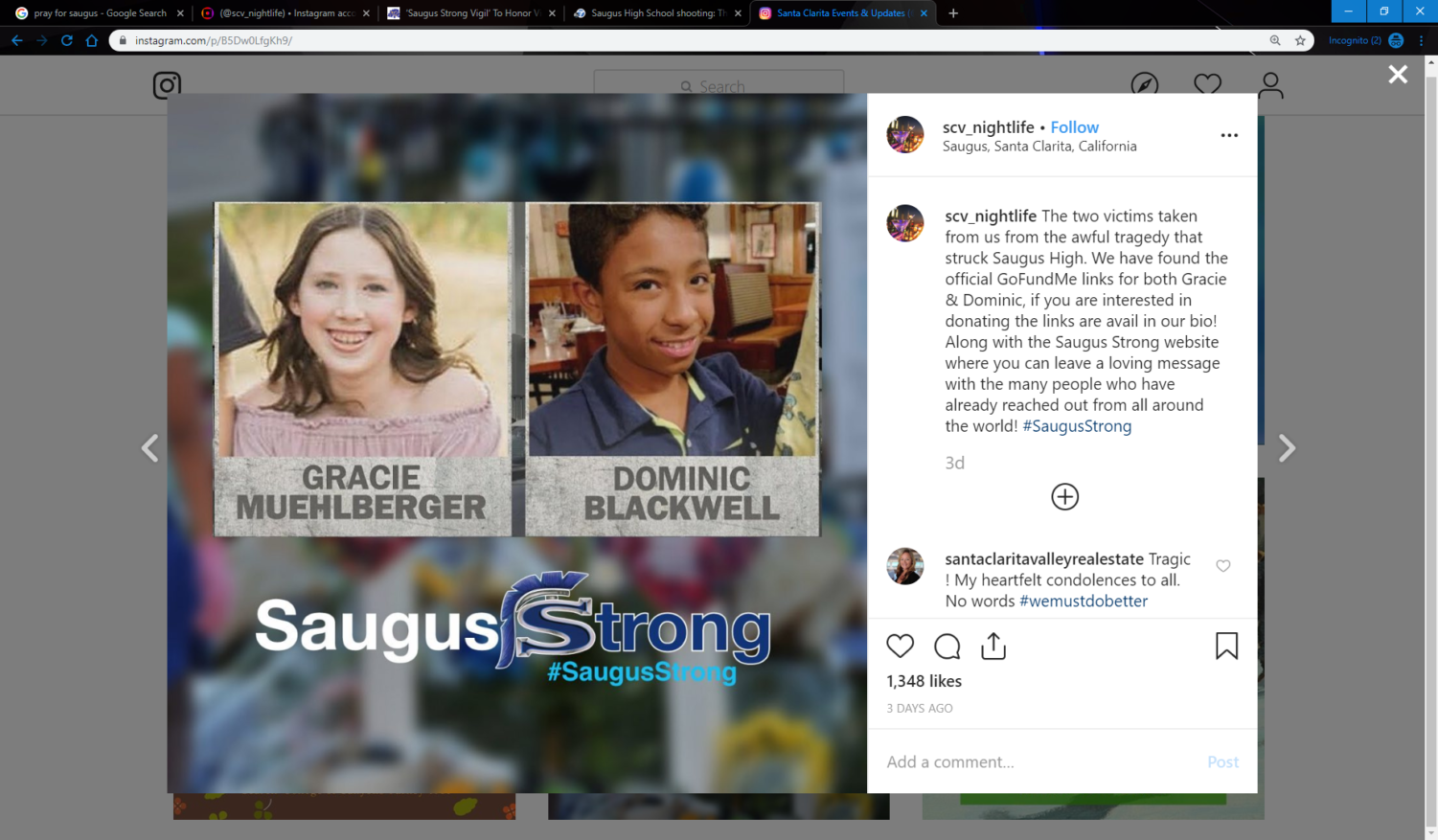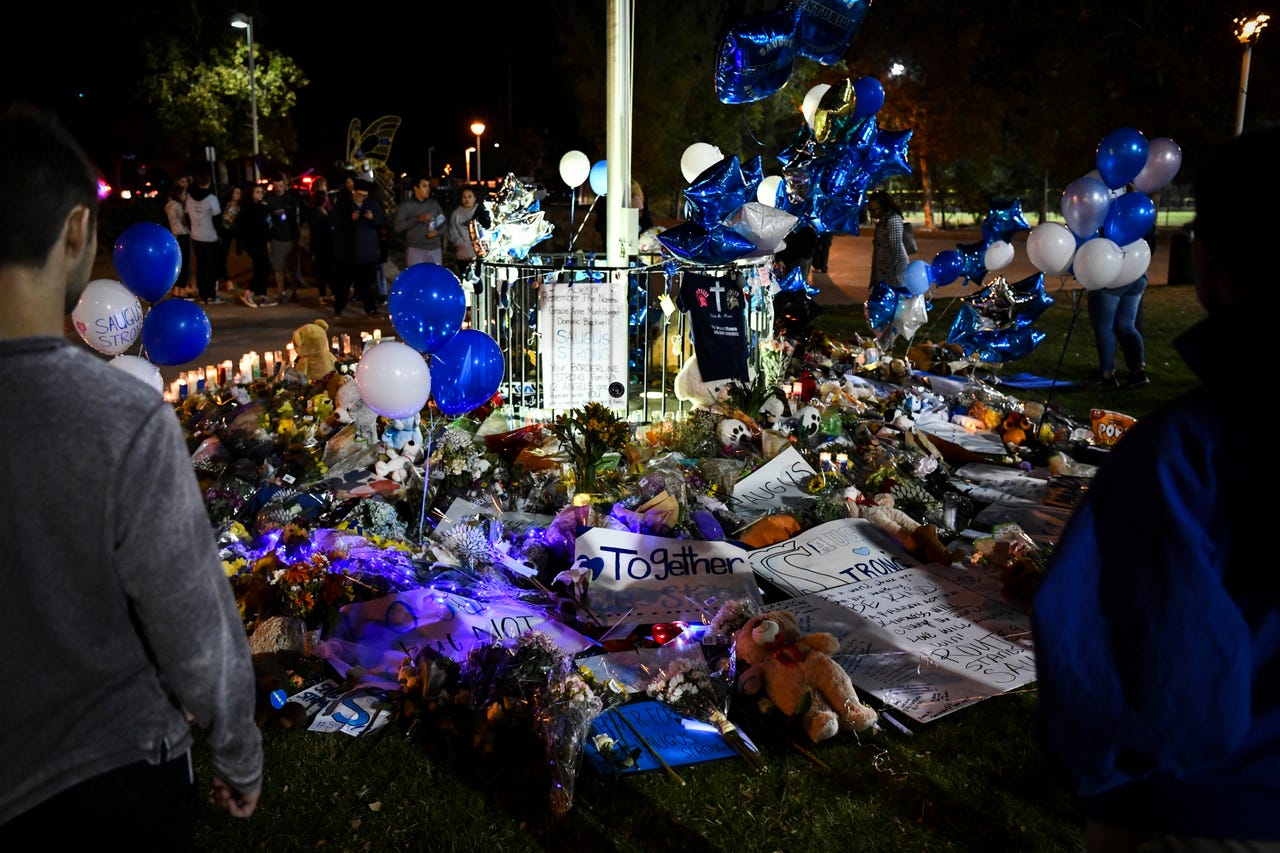 Saugus Highschool Virgil
Thousands of people gathered on Sunday Nov.17 to mourn and remember the victims of the shooting at Saugus Highschool. Saugus Highschool students and their parents attended the emotional vigil to honor those impacted and remember the two teenagers whose lives were tragically taken in the shooting, 15-year-old Gracie Muehlberger and 14-year-old Dominic Blackwell.
Central Park in Santa Clarita has become a gathering place for those wishing to remember the victims. Balloons in school colors, flowers, stuffed animals and other items have been left at the park to remember them.
Trump sends his "deepest Condolences to the families and friends" lost in the shooting.
Robert Gonzales
Tweet posted by President Trump sending his "deepest condolences" to the loved ones afflicted by the tragedy.

President Trump also gave a message showing his thoughts on the incident writing that he continues to monitor "the terrible events at Saugus High School in Santa Clarita, California through our ongoing communications with Local, State, and Federal Authorities:

"We send our deepest condolences to the families and friends of those tragically lost, and we pray for the speedy recovery of the wounded," the President wrote.

The city of Santa Clarita


#Saugus Strong

Something to strongly take into consideration is, for the last 20 years our students, teachers and parents have lived with the tragic reality of school shootings. Meanwhile, America's gun violence epidemic, in the form of mass shootings, homicides, assaults, unintentional discharges, and firearm suicides, has been infecting America's schools. The failure of our leaders to address the root causes of school gun violence from all angles is having lasting consequences for millions of American children.

There is no denying the terror of having to endure something as tragic as a school shooting and it can sometimes be overlooked however, there are many who take them into consideration, especially when those you know or hold close to you are also afflicted.

Many students on campus at ERHS gave their wholehearted opinions as well as affirmations of what happened at Santa Clarita and how any other school shootings must be addressed.

Senior, Janelle Meza gave a very heartfelt and eye opening statement saying, "My cousin Juliana was supposed to go to Saugus in middle school but she moved, so her childhood friends had to experienced it." Meza continued, "My cousin's family were heart broken and my aunt called someone there while it was happening because she couldn't find her sister. It was shocking to hear because I just don't know how I would feel if they never moved and she had to experience that. Meza added, "I'm just praying that the families are okay and I hope they will have strength to go on with their lives because it's a terrifying thing that no one should ever have to go throug and, its heartbreaking that there have been so many school shootings the past couple of years. I wish our society wouldn't have to worry about going to school or being scared to go."

I cannot stress this enough, We need meaningful action to keep our schools safe, action that addresses what we know about gun violence in America's schools and prevents it from occurring in the first place. I believe it is high time for our leaders to adopt a multi faceted approach that provides the school community with the tools it needs to intervene and prevent school based gun violence. The question at hand is, "How many more lives must we put at stake, must we lose in order for us to strengthen the prevention and awareness of school shootings?" The thought of fear or being unprotected at a place of learning should ever have to cross the minds of students let alone staff members, and for the poor lives lost and afflicted by the recent shooting, one can only imagine the undesirable heartbreak that those families and friends have to endure. To the people of Saugus, our hearts break with you as we mourn the lives lost and affected, and you are in our thoughts as we pray, terror has no religion nor does it have a gender or race, all we wish is for it to go away.

About the Contributor

Robert Gonzales, Journalist

Robert Gonzales is a returning member and writer for the ERHS newspaper, The Roosevelt Review. He is currently a senior and plans on attending a university...