ERHS Theatre Presents: High School Musical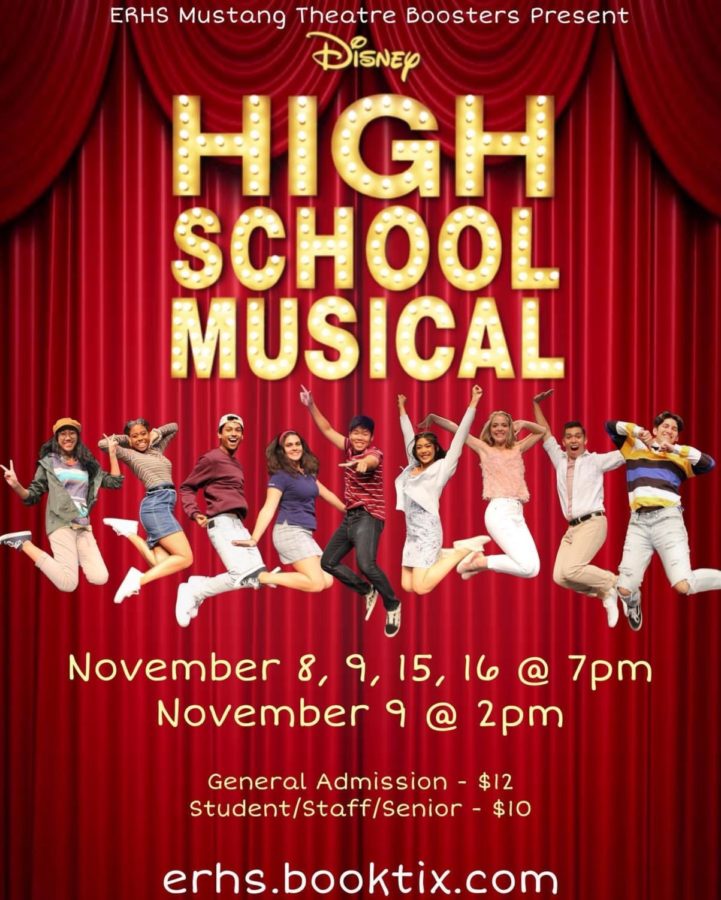 Over the last two weekends, our very own Mustang Theatre put on a production of High School Musical, from the Disney movie that has become such a pop culture icon. Even if you haven't watched the movie, you've at least listened to one of the songs from it, or seen someone dance the choreography from it, or scrolled through memes about it on social media. It's a difficult thing, to live up to its reputation. But the cast certainly did not disappoint.
I was in the audience on the night of the 15th, and was lucky enough to be in the front row. Before the show began, Mrs. Frost, the theatre director, told the audience that she was originally going to postpone the production until January, on account of her not being able to be there for the cast before and during tech week, the week before opening night. She decided not to postpone it, however, because, in her words, "this group is so great, I felt comfortable leaving them on their own. Which really is a testament to how talented they are."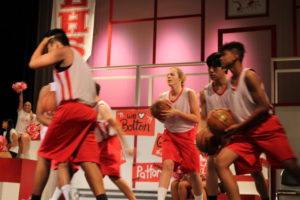 And her words were not left unproven. As the lights dimmed and brightened, and the first scene started, it was immediately clear that no one would be leaving the theater unsatisfied. I talked to some of the audience after the show, and many praised the cast's performance. Joanne Nguyen, a junior, said, "I really liked the show, I thought it was well performed and they all sang well." She went on to say that it was very emotional, and that she "cried three times."
Edeina Castillo, a junior and a big fan of musicals, said "everyone was so good, they're all Broadway bound!"
The main cast included Victoria Villamil (senior), who played Gabriella Montez, and Max Kuoch (junior), who played Troy Bolton. When I asked them how it felt to be playing such a big role in the show, Kuoch said that he was "very nervous to perform because now all eyes were going on me, but after I got over the nerves, it became a thrilling experience to be the lead role and perform in front of everyone."
Villamil was similarly thrilled. "I can't even begin to explain how honored I am to be playing Gabriella Montez!" she said. "When I was little, I would watch the movie and sing along, but never would I have imagined that I would eventually play her!"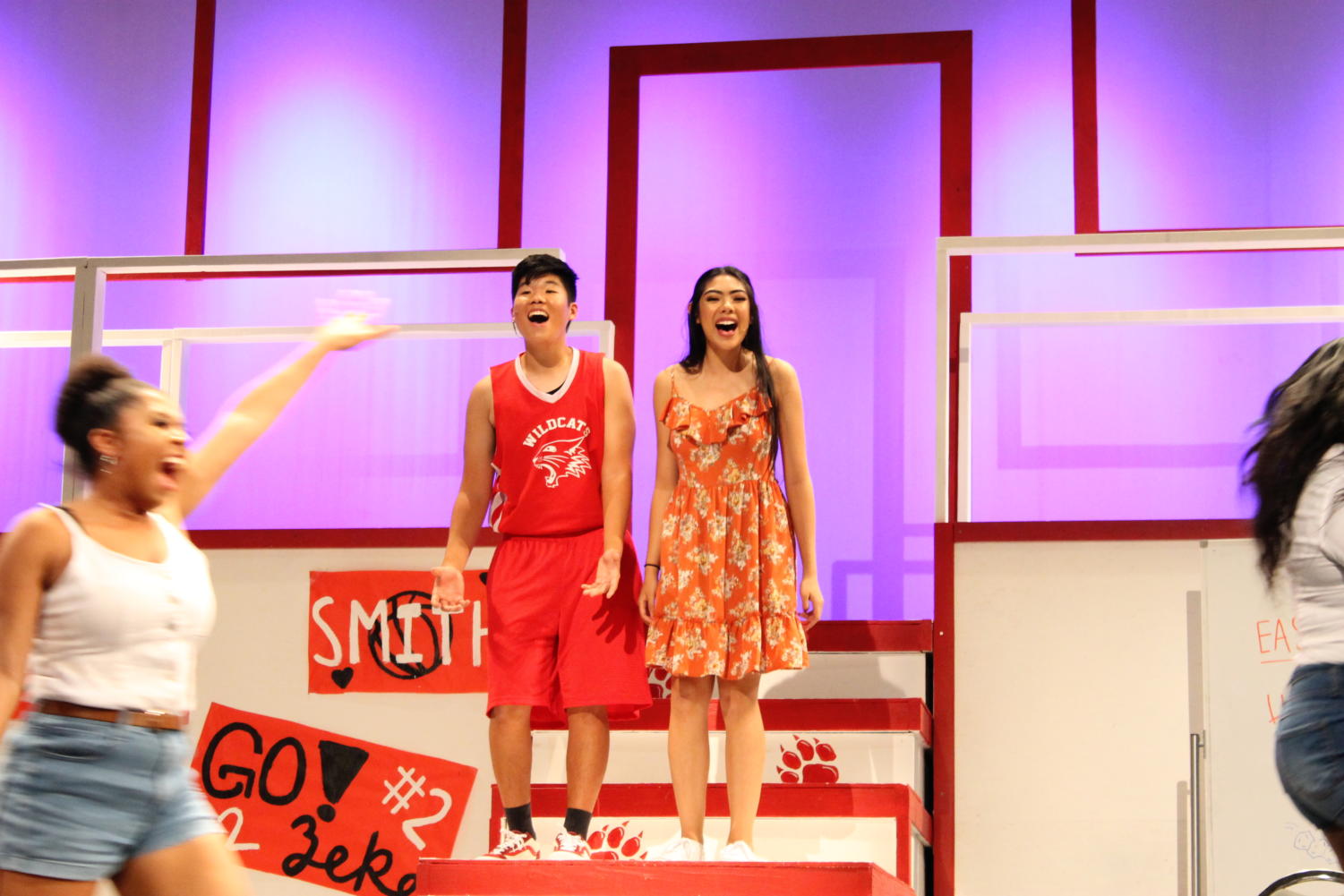 Many of the cast members I spoke to talked about the great energy among the cast, and how fun it was to perform the show. Luke Silva (junior), who plays Zeke Baylor, said, "The energy and vibe of the show and being with all of my best friends really reminds me why I make the decisions I do and how grateful I am for everyone and everything." Ava Cusiter (junior), who plays Sharpay Evans, shares the same feelings. She told me her favorite part of being in the show "has definitely been the cast and getting to perform with some of my closest friends and enjoy being on stage together."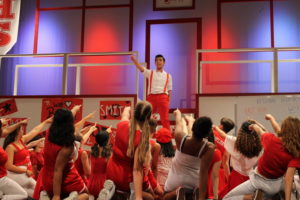 With so many fun moments and songs in the show, it's hard to pick just one. Silva said "Stick to the Status Quo" was his favorite, saying that "it's such an iconic song that everyone enjoys, and I get to throw some whipped cream in the face of my friend!" Cusiter, who was the one to get whipped cream to the face, told me "What I've Been Looking For" was her favorite to do, alongside Christian Sanchez as Ryan Evans, because "it's a really cute song and fun to perform."
Elan Patton (junior), who's in Ensemble as a Jock, said the detention scene was his favorite because he gets to be an earthworm, sliding across the stage. Villamil said that was the most challenging scene for her, because "everyone is so funny with all of their crazy animals that sometimes I find it's hard not busting out laughing!"
There were some technical difficulties during the middle of the show, which had to be paused in order to fix them, but overall the night was a fantastic experience, propelled by a wonderful cast that really knows how to perform. As Silva said, the show "took a lot of heart, love, and dedication to be the Wildcat within!" And with that hard work and dedication in mind, we can only look forward to what our ERHS Theatre will do next.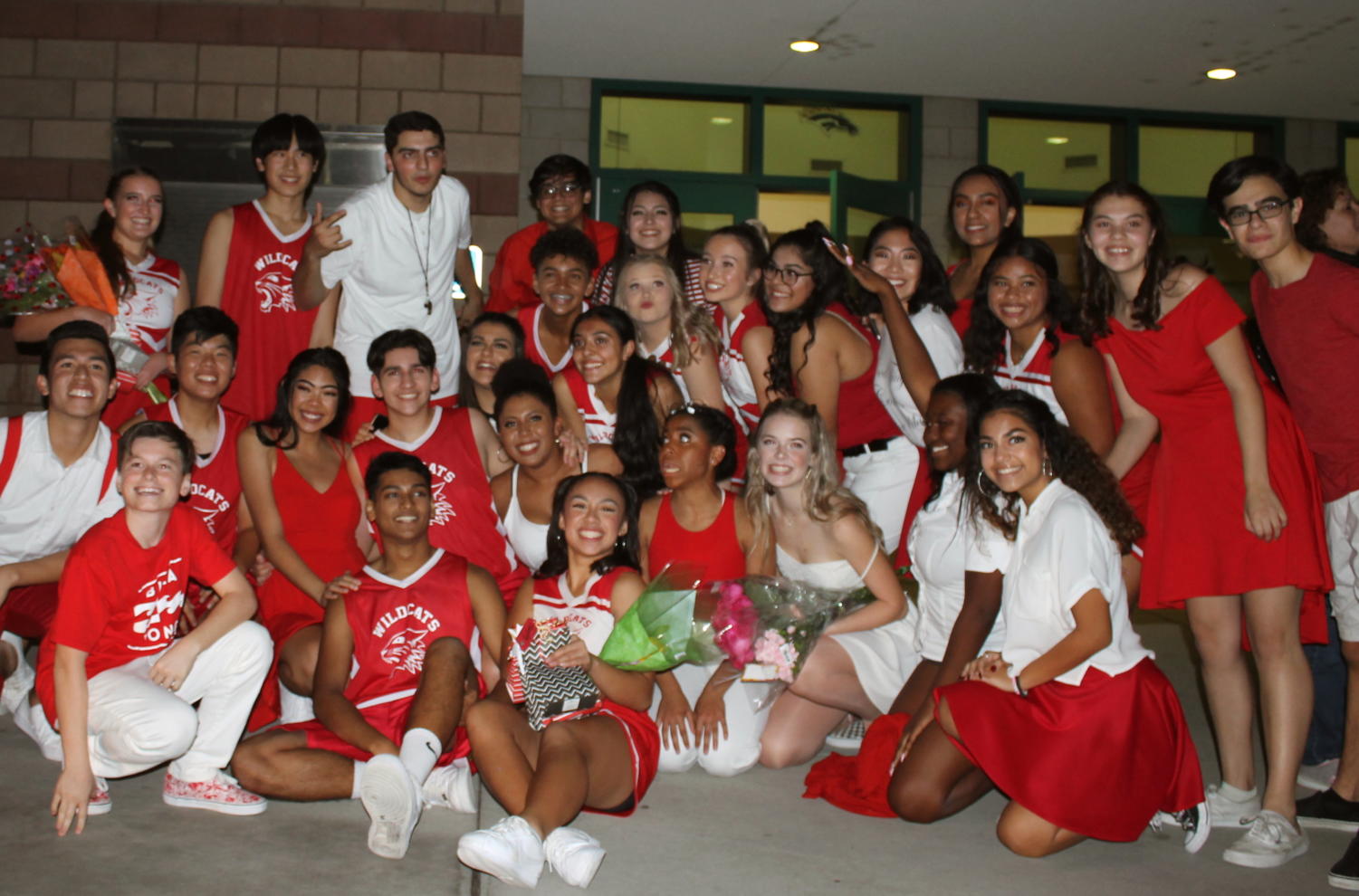 About the Contributor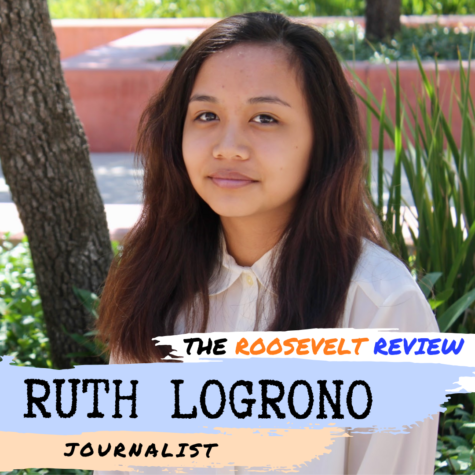 Ruth Logrono, Journalist
Ruth Logrono is a junior at Eleanor Roosevelt High School. She is drawn to journalism for the writing experience, and the chance to share something with...