Cross Country Season Coming to an End
Hang on for a minute...we're trying to find some more stories you might like.
Cross Country season may be coming to and end for most schools, but for our amazing runners on varsity, it is only beginning. Congratulations to our amazing JV and Varsity Cross Country teams on their super successful season and their final regular season race on this past Wednesday, November 8. On Wednesday, the teams competed in the Big Eight league finals. Both JV girls and boys came in second place, girls varsity also placed second, and boys varsity came in first place, gaining their fourth league title in a row. I asked Cross Country Coach David Cummings how the wins will affect the teams going into CIF, he responded, "Both the men's and women's programs are going to be going into CIF. They race next Friday, November 15, and if the qualify, in which the both should, they will race the following Saturday, November 23, in CIF finals. The top seven teams in each division go onto the state meet."
I then asked him what were the expectations for the teams going in and he said, "The expectations are that the girls will improve from their standing last year, hoping that we maybe can squeak out a top 10 or top 12 finish at CIF finals. The boys are ranked, and if everyone is on the line hungry and healthy we have a chance to do something pretty special." He then mentions, "I have two boys right now that are in line to take home the individual title if they play their cards right." Cummings believes on a good day they will come home with a top three finish for CIF, and even on a bad day move onto the state meet.
On the other side of the course, senior varsity runner Tony Chavez took third place at league finals. First and second place was also taken home by our Mustangs, Michael Sahagun, and Andres Chavez. Tony Chavez said, "This finish definitely gave confidence to a lot of our guys, and we know that we are ready to compete well and take care of business."
I asked Chavez what were some of the highlights from the regular season and what he was hoping to accomplish during the rest of the season and he responded, "Some of the highlights of this season are the varsity team going undefeated in league, in our first league meet we put our top five in the top six of the race, and individually I ran the #2 time at the Sunny Hills Invitational. The big goal is to qualify for state and to get second at CIF finals for division one."
Congratulations again to both JV and Varsity cross country teams on their final regular season race of the season, and good luck to our amazing Mustangs as they compete in CIF next Friday, November 15. Come back next time to The Roosevelt Review for more updates on Cross Country's race to CIF titles Mustangs!
About the Writer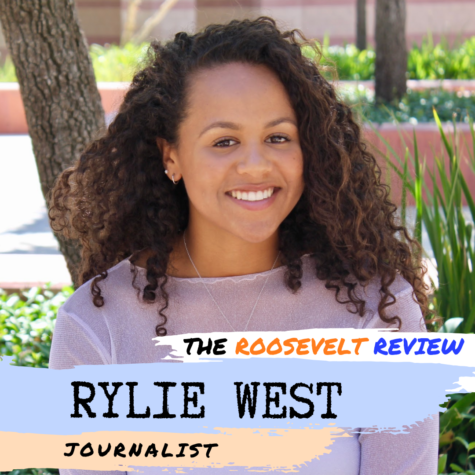 Rylie West, Journalist
Welcome back Rylie West to the Roosevelt Review. Rylie is a senior here at ERHS and enjoys writing and learning about the journalism field. Last year,...