La La Land Movie Review: To The Fools Who Dream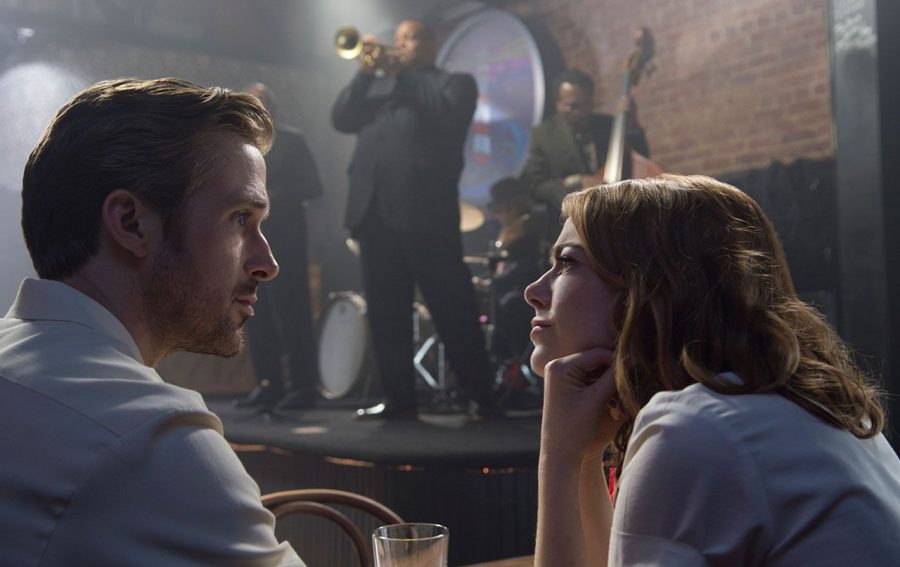 Danny Nguyen, Secretary, Staff Writer, and Co-Editor of Features & Overall News
January 20, 2017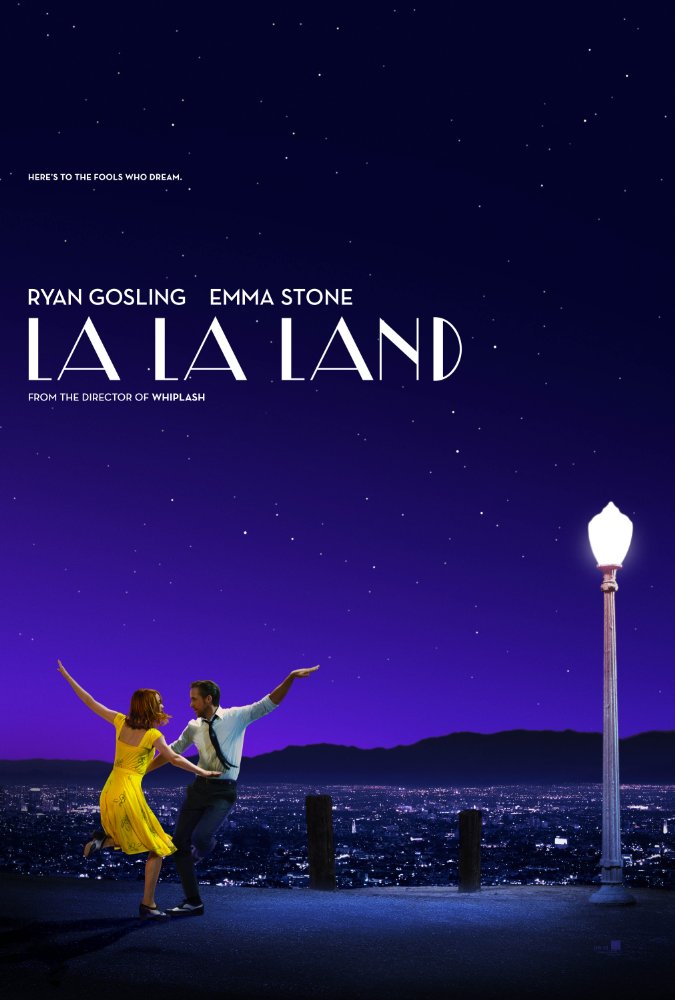 From the Internet Movie Database (IMDB)
There is something beautiful about the city of Los Angeles. That besides the crime rate, poverty, and pollution surrounding it, the City of Angels can still attract people from across the nation, calling those artists to make their wildest dreams come true, whether it be in the music or film industries.
Perhaps it's the different kinds of places in Los Angeles that's the main draw for them. And yes, one of those obvious places I am talking about is most famous place of them all: Hollywood, the entertainment capital of the world with the film studios like the Warner Brothers lot, displaying a certain aura of glamour to it that makes you want to take part and contribute.
But what I'm also talking about are the places in LA that define certain gorgeous aspects of the city we typically see in our minds. There's the Griffith Observatory, with its combination of wonder and science a strange yet appropriate concoction. Beyond the city limits, there's the LA 105 & 110 Freeways, with its busyness as people head to work in the big city or head off on an exciting adventure of their own. There's also Hermosa Pier, with its mesmerizing sight of the Pacific beyond the California shores.
Who would have guested that we now have a film that highlights these interesting qualities? La La Land is that film and it had me smiling throughout its 2 hour run time.
It centers around two dreamers, Mia and Sebastian, as they navigate – or I should say, sing and dance – their way through an exhilarating yet cruel city, as they try to accomplish their biggest and brightest dreams of artistry. Insecure, but ambitious and playful Mia, played by a charismatic Emma Stone, aspires to be an actress, working at a coffee shop on the Warner Brothers film studio lot where she can be surrounded by people of show biz that she truly wants to be a part of. Jerk-like, yet damaged and charming Sebastian – brought to life by actor Ryan Gosling – on the other hand, is a devoted and talented pianist whose love for the music genre of jazz inspires him to open his own music club in LA featuring the traditional-style kind of jazz music that was revolutionary back when it hit the scene in the early 20th century from the likes of Louie Armstrong. He desperately wants to save it from a culture that plainly regards it as "elevator music" or "music that's just played in the background at parties." Facing major setbacks and failures along the way, with Sebastian and his unkind boss (J.K Simmons returns in a small role) that doesn't take to his music being played at this restaurant both soon fatefully bump into each other frequently and later fall in love.
It's the kind of plot that one might consider cliché, having been reused in many romance films, comedy films, romantic comedies, and light dramedies with that classic girl-meets-guy-and-both-soon-fall-in-love-after-at-first-not-liking-each-other situation. And haven't we seen so many films about Hollywood as of late? (Hail Caesar!, Birdman, Trumbo, The Artist, Tropic Thunder, etc.).  And do people really still watch film musicals or do they prefer seeing stage musicals instead given the growing popularity of Hamilton?
Well, what makes La La Land a great film is that it pays homage to all those elements in a respectful, nostalgic way while also becoming an original piece in its own way because it is successful in adapting Old Hollywood, classic tropes, film musicals of the day (1952's Singin' in the Rain clearly an inspiration) to today's millennial modern generation.  Mia is seen driving a Prius and owns a cracked iPhone she uses at one of her auditions. Sebastian despises the kind of music that today's youth is attracted to, finding it very painful to play songs that most people like.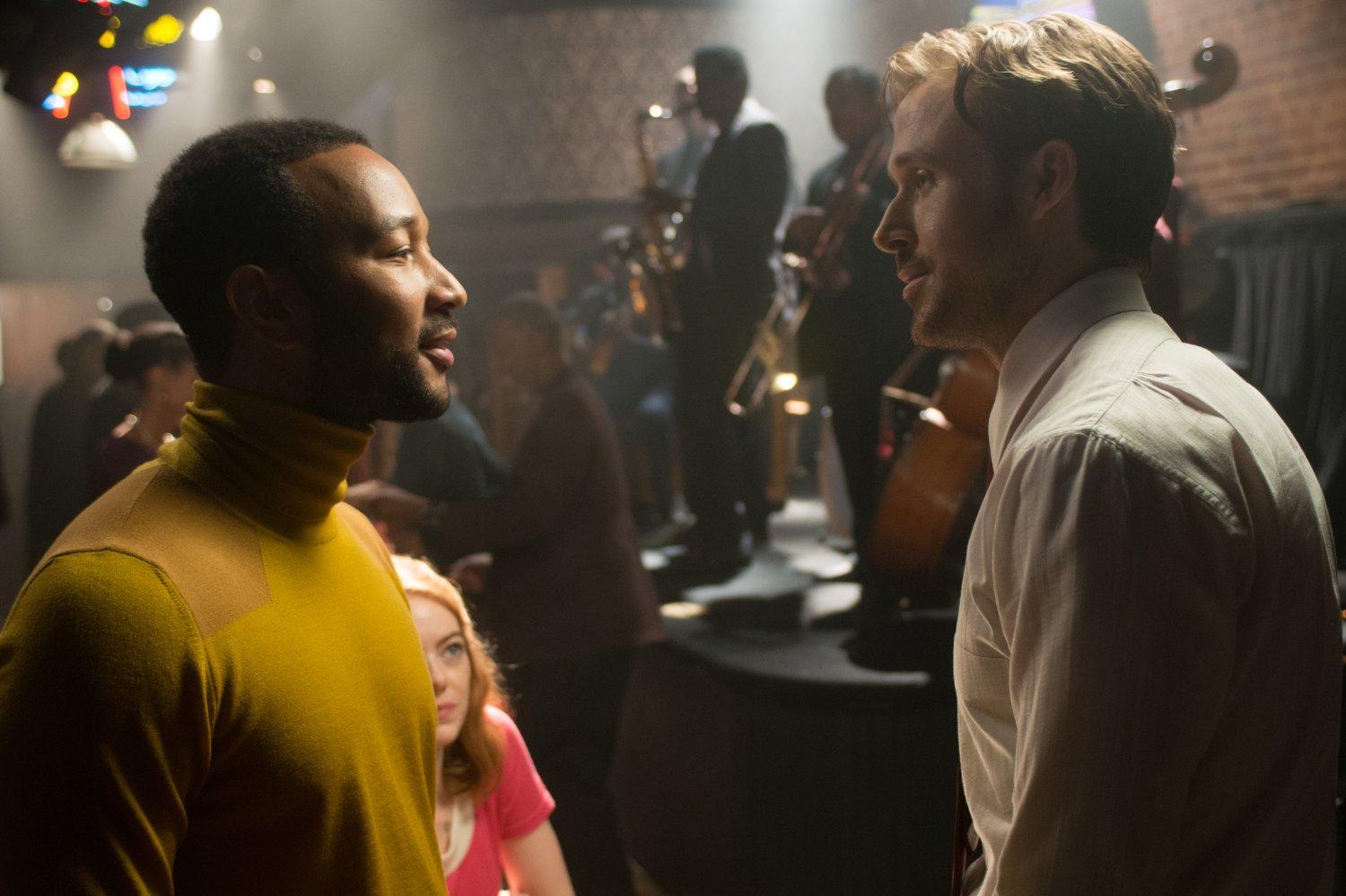 There's even an interesting jazz-electronic mix type song ("Start a Fire") sung by prolific singer-songwriter John Legend, who is also in the film playing Sebastian's old high school classmate Keith, who convinces him of joining his band and touring across the nation with his new jazz sound.  Talk about a film that makes old things feel fresh again, which is certainly intriguing and fascinating.
There's witty dialogue, zingy lines and memorable nuanced moments coming from a sharp screenplay penned by Whiplash's Damien Chazelle. He once again makes another great work of art showcasing his abilities as a writer-director,  telling the story in as smoothly as can be which allows moviegoers to be emotionally invested in its two leads and compelling themes.
Mia and Sebastian are relatable characters with great chemistry thanks to the natural chemistry of Stone and Gosling, both of whom co-stared together in films Crazy, Stupid, Love and Gangster Squad prior to being in this one. They truly nail their parts by adding depth to these two artists since they themselves are artists. The struggles and hardships when chasing one's individual dreams puts a strain on a relationship, especially when their ambitions collide with the personal crucial decisions couples make together.
The essence of Hollywood culture and commentary on how difficult it is to make it big in a very crowded place full of other talented dreamers, as well as how Jazz is slowly slipping away with the rise of new genres of music that ironically spawned from Jazz are the other messages as a response to a strong script. They also benefit from creative mesmerizing shots of the film's scenery filled imagery that arouses the senses. The certain alluring places in Los Angeles with its gorgeous colors made from good cinematography takes us to a surreal kind of Hollywood, a beautiful fantasy that we hope exists, that we get lost in in a good way, but also in a bad way as we struggle to find our way on the right path to success.
Let's not forget, of course, the model of the old film musical, indicated by the impressive musical numbers with nicely choreographed dance sequences and on-par singing of well-written songs that reflects what it means to live a life of artistry. The music itself – with a taste of good old-fashion jazz in an original score – is food to the ears with some piano ballads here and some horns blowing there.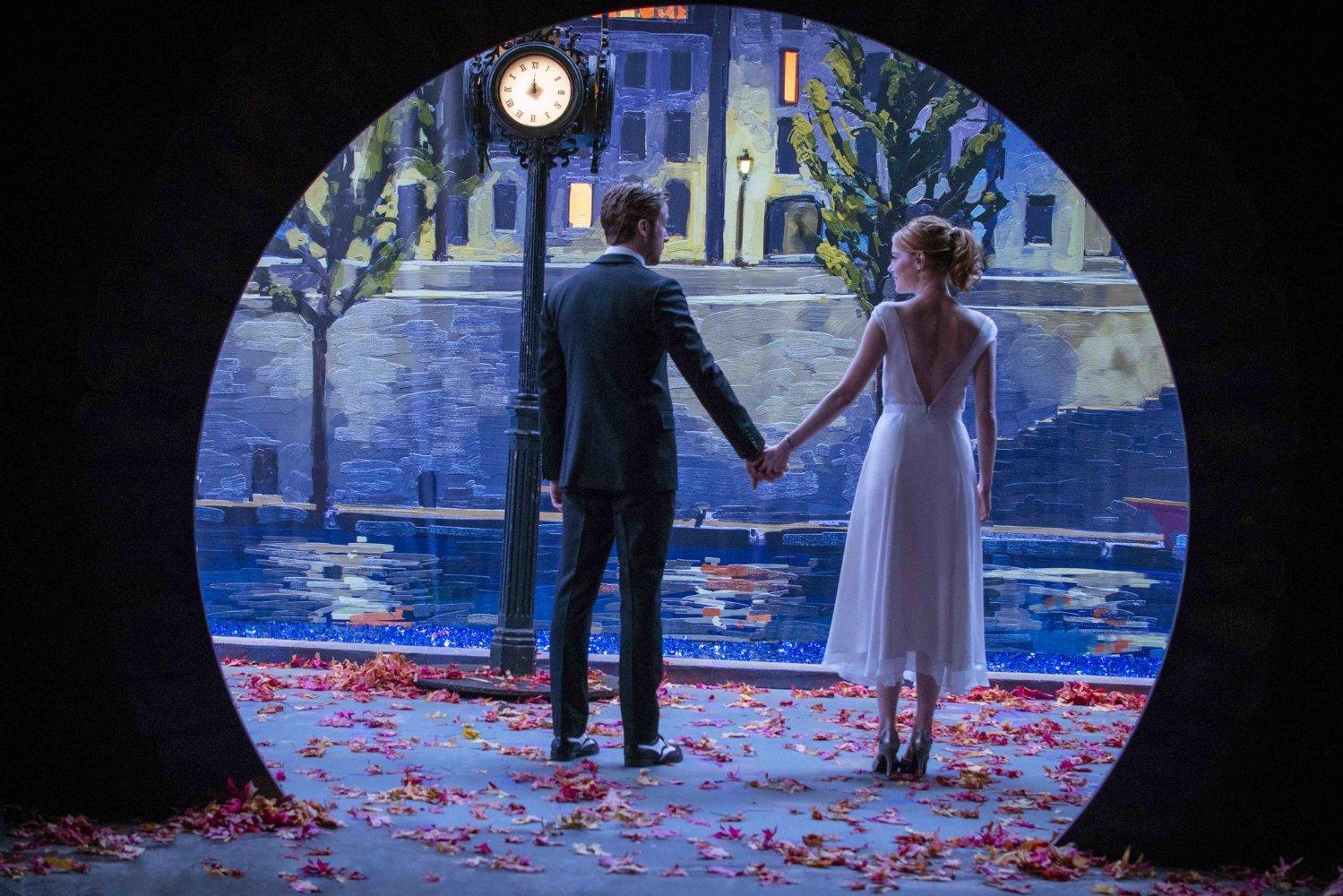 Beautifully written, shot (oh, those beautiful places!), scored, and choreographed, this passion project (In his acceptance speech for Best Picture – Musical or Comedy award at this year's Golden Globes, Chazelle spoke of how difficult it was for it to get the film greenlit in its earlier stages by major studios) which managed to be successfully released, is truly deserving of the acclaim it's receiving and the awards it's gaining.
It's a less cynical film than you'd expect and certainly the kind we need given the climate our world finds itself in. Because life is in a sense, like a musical, full of energy, excitement, drama, and most of all, passion that can take you a long way if you just keep dreaming and keep going.
La La Land is an enjoyable film for those dreamers out there with a keen sense for music, singing, dancing, Hollywood life, and falling in love. Taking a cue from Mia's sung lyrics, let us rejoice to the fools who dream.
La La Land is now playing at the local Eastvale Edwards Stadium 14 theater. Showtimes for the film can be found here: http://www.fandango.com/edwardseastvalegatewaystadium14_aauqt/theaterpage
Main Cast:
Emma Stone as Mia Dolan
Ryan Gosling as Sebastian Wilder
John Legend as Keith
J.K Simmons as Bill
Rosemarie DeWitt as Laura Wilder
Finn Wittrock as Greg Earnest
Written and Directed By:
Damien Chazelle
Music By:
Justin Hurwitz
Film Released & Distributed by:
Summit Entertainment