Fashion Trends at ERHS
Throughout the years, Roosevelt has faced many trends on campus. Through these trends, the unique individuals on our campus are able to express themselves. In the recent decades, our campus has seen all types of distinctive trends. The fashion trends most prevalent on our campus include oversize shirts and hoodies as well as biker shorts. Along with these fits include accessories such as gold chains with a religious cross, rings, and hats. There has also been a resurgence of 80s-90s fashion. On our diverse campus, students represent their unique style through their fashion statements.
The most noticeable looks around campus include oversized shirts and hoodies. Following the start of school from the summer months, many students were seen pairing shorts with extra large T-shirts and hoodies if there was colder weather. Senior Bryce Henry states, "the best trend i've seen on campus in the past 4 years was the big jacket trend and the oversized style." He also states, " With the right items, your fit would go so crazy." Many girls around campus are also seen sporting v-neck tank tops or tube tops/cropped shirts.As we go into the winter months, cable knit sweaters are making a come back as well as layering a long sleeve under a short sleeve graphic tee.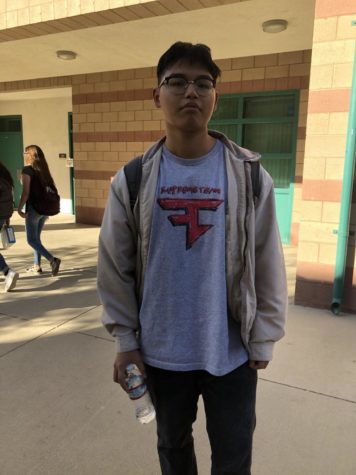 No good fit is complete without the appropriate bottoms. Students on our campus sporting ripped "mom" jeans as well as denim/corduroy skirts. Other than the classic ripped jeans, our campus is wearing dicikes and khakis. Many students are also making/ painting their pants to give their look a more unique approach. They are also seen thrifting their clothing to create their own statement pieces. Student Sydney E. states, "I see people rep a lot of thrifted clothing's and make them their own style which is awesome."  She also states,"You can get the cheapest clothes and they could be the best articles of clothing you own." Pairing with bottoms comes accessories like chains.
In recent years, many students are sporting accessories such as chains and rings. Most commonly worn is golden crosses along with layering other smaller chains. Also being recently sported are rings. Along with common accessories also comes the cap to outfits, shoes. Shoe brands like vans are making a resurgence as their variety of checker vans are being worn.
Though there have been many trends on campus, each one of our students have a unique style that shows who they are. Something as simple as outfits give an outlet for representation and creativity through our diverse campus.