2019 Homecoming Floats
As the new school year evolves, the students at Eleanor Roosevelt High School are preparing for homecoming. The long awaited homecoming game is on October 11. As part of the half-time show, each year of class council pushes their hand-crafted floats along the track showing it off to the crowd. For many weeks, class councils have worked hard to build their floats on time for the homecoming game. Making their floats as best as possible, students stayed way beyond after school hours hustling to get each piece of their floats hot-glued or nailed down.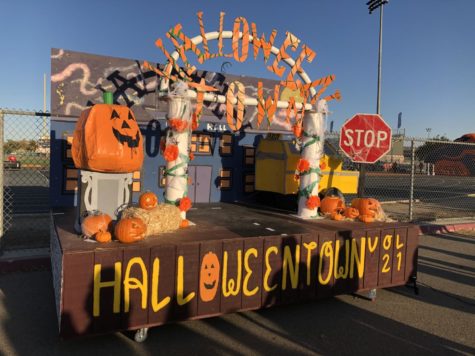 For senior class council, this is their last year of homecoming. Seeing as this is their last year, class council wanted to make this their best float possible. They were given the theme from the movie "Coraline". Based off of the movie, the students of senior class council were able to put together a scene from the movie. They chose to recreate the garden scene. On their float, it includes a hand crafted flower bed as well as a bridge in which the homecoming nominees will sit on.
As for junior class council, their float was based off of the movie "Halloween Town". Seeing as this is a Disney classic, they implemented the iconic taxi and arch way which shows off the entrance to the town.
Sophomore class council's float was based off of the childhood thriller, "Monster House". On their float is the house itself as well as smaller details such as a tricycle, and kites that would be seen in the movie. Also, selected members of council chose to dress up as the characters in the movie.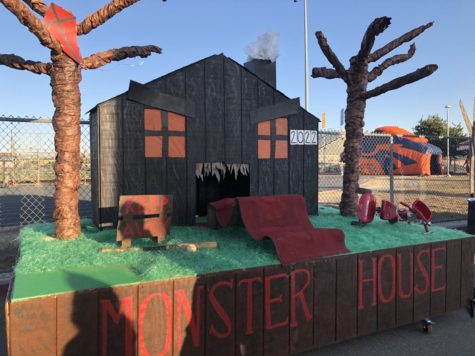 The winners of the float competition were freshman class council. Their theme was the "Nightmare Before Christmas." They crafted the doors that enter into different seasons. They also included cardboard characters and 3D characters.
Many people in the audience enjoyed the float parade, appreciating the hard work class councils put into each float. Spectator Maria Johnson states, " Each float looked so beautiful and they really worked hard on them." She also states, "Each nominee looked wonderful and it was amazing to see everyones reactions especially the senior float." As many spectators enjoyed the floats, class councils also enjoyed taking part to create them. Jessica Pham states, "I painted a lot of the float with other members of my committee and I can say that it turned out amazing." She also states, "I've never been more proud to show off what I contributed to."
Overall, the Eleanor Roosevelt class councils put on a great parade with their beautifully hand-crafted floats at a memorable Homecoming football game.