"High 5" for a 5 on Your AP Exam
Hang on for a minute...we're trying to find some more stories you might like.
This year at Eleanor Roosevelt, our administration has put together a way to congratulate students who received a five on their AP exam this past year. The event is called, "You Scored a '5' on Your AP Exam". This is based off the idea that you are receiving a high 5 from administration for earning a 5 on the exam. There are three days you can pick up your "High Five Yard Sign", October 2 from 6-7pm, October 7 from 3:30-5:30pm and October 11 from 4-6pm. You and your family can pick up the yard sign in the B235 administration office. I asked Jenny Tellez, the assistant principle of AP's why our school decided to implement this starting this year, and if it was due to higher amount of fives scored on AP exams, as well as why the pick-up times are in the evening. Tellez responded that they implemented this for the first time because it is, "A new tradition." She also responded, "I got the idea from Santiago High School and wanted to give our students recognition they deserve." To answer the question for why the pick-up times are all in the evening Tellez said, "So that students are not carrying large signs with metal poles on campus around other students and to allow parents/ family to come and pick up the signs."
Lorenzo Sarreal an ERHS senior scored a five on his AP Calculus AB exam this past year. I asked him what he did to prepare for the exam and if he heard about the "High 5" event. He responded, "I took a lot of practice problems and FRQ's." As well as mentioning he found out about the event from his mom. I also asked him how he feels about the event overall. Sarreal, "I think it's cool that the school is honoring people who got fives but I think they should honor anybody who passed an AP test because those things are stressful and AP kids work very hard just to get 3's, and that's passing. So I think it should've been more inclusive to those who passed."
Sarreal is planning on attending the event to get his "High 5" yard sign during one of the three available days. If you received a five on one of your AP exams last year, celebrate your accomplishment, and go pick up your sign from the B235 offices. Bring your families so they can celebrate our accomplishment as well, and if you know of any other Roosevelt students who scored a five share this article with them so no one misses out on this opportunity!
About the Writer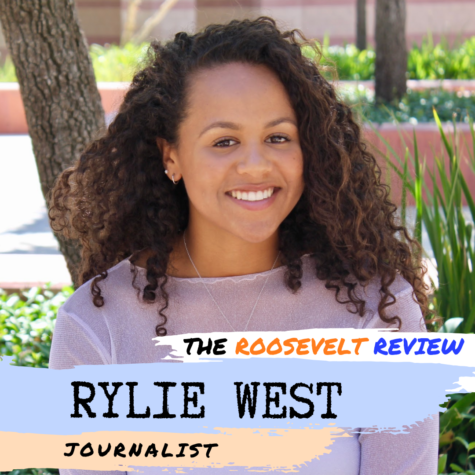 Rylie West, Journalist
Welcome back Rylie West to the Roosevelt Review. Rylie is a senior here at ERHS and enjoys writing and learning about the journalism field. Last year,...