Coach Dabo Swinney's Life Altering 10 Year Contract with Clemson Tigers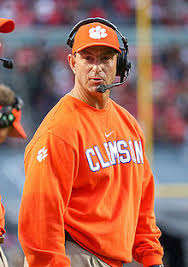 Hang on for a minute...we're trying to find some more stories you might like.
On Friday, April 26th 2019, Coach Dabo Swinney of the football team the Clemson Tigers, signed a ten year contract as their coach, which will take him into the 2028 season. Additionally, the contract includes a $93 million extension. It will pay him 8.25 million in 2019 alone and increase up to 10 million in 2027 and 2028. This will go under one of "the richest coaching contract in college football history" (CBSSPORTS).
When Swinney took over the college football team, he has earned them their wins, earning them eight straight ten win seasons, winning 5 ACC titles, and making the college football playoffs, all while  winning national titles in 2016 and 2018.
Swinney states to CBSSPORTS, "I am grateful and humbled by the incredible commitment Clemson has made to me, my family and our football program," Swinney said. "For more than a decade, we have given our all to provide this world-class university and our incredible fans the championship football program they deserve – to live up to "Best is the Standard." With this contract, we make a collective statement that we intend to continue pursuing championships and developing total student-athletes for years to come. Our sustained continuity in vision, people and culture has been a key ingredient to our success, on- and off-the field. I am thankful for the leadership we have at Clemson and appreciate all they do for Clemson football. I am truly blessed to be your head football coach."
About the Writer
Megan LeBlanc, Writer
My name is Megan LeBlanc, and some things that I enjoy doing in my free time include: singing and acting, as I was involved in theatre for the majority...