This Week in Sports 4/22-4/26
Hang on for a minute...we're trying to find some more stories you might like.
Welcome back Mustangs to another week in sports here at ERHS. We are coming to a close in our Spring sports season here on campus, and many of our sports teams are completing their final games in league this week. This year our spring sports have accumulated many league titles including, our boys golf team, boys volleyball team, and our track team.
Schedule for week of April 22:
Boys Golf remains undefeated and wins a league title after defeating Norco while setting a school record (258-191).
Boys and Girls Track remains undefeated in league winning yet again another league title. This week the competed in prelims which is a meet with every team in the Big 8 league. On top of their win and league championship, Lydia Liu made  school record for discus and threw it 126'0 with the previous record being 119'2.
Boys and Girls Swim had their league finals on Thursday, April 25, where many of our mustangs made personal records.
Boys Volleyball completed their season on Tuesday, April 24, finishing with a 14-0 record making them league champions.
Boys Lacrosse played their last game Thursday, April 18 against Santiago High School at home but fell short. Their next game is May 2 at Riverside Poly.
Girls Lacrosse also played Thursday, April 18 against Santiago but fell short, and they will play Riverside Poly at home on May 2.
Boys Baseball finished their season against their final league opponent Thursday, April 26 at Centennial High School. Our Mustangs battled hard but lost 9-3.
Our final Spring sport, girls softball played Tuesday, April 23 against Centennial High School for third in league. The third place in league will make playoffs, and our Lady Mustangs came out on top with a 2-1 victory and a spot in playoffs. I asked Junior Alyssa Argomaniz "How it feels to make playoffs? When was the last time the ERHS softball team made the playoffs? What are the teams expectations?" and, "What message she wants to give her team?"
Argomaniz: "It is such a great feeling to make CIF especially going to plaoffs with my closest friends. The last time ERHS softball mae playoffs was the year right before my freshman year, so in 2016. Our team expectations and plans are to win CIF and become a more known school around the high school softball community. My message to my team would be to finish strong and work together as a team to accomplishing our goal of winning CIF."
Mustangs, come out to watch your favorite spring sports team as they finish their seasons and make a run for CIF titles. Come back next week to "This Week  in Sports" for updates.
About the Writer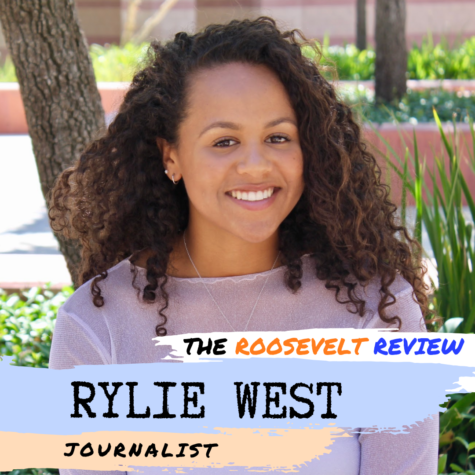 Rylie West, Journalist
Welcome back Rylie West to the Roosevelt Review. Rylie is a senior here at ERHS and enjoys writing and learning about the journalism field. Last year,...