Boys Volleyball Clenches League Title and Makes History
Hang on for a minute...we're trying to find some more stories you might like.
Great news Mustangs! Our ERHS Boys Mustang Volleyball team has recently been titled undefeated in their league this season! The team's stats consist of is 9-0 in league and faces Martin Luther King High School from Riverside next Tuesday, April 23 at King High School. The last time our Mustangs played King was March 14 at home, and took them down in the first three sets (3-0).  Throughout league, the team has only lost five sets out of a total 44, not including their last league game on Tuesday. Although losing 5 of the 44 sets, they were still able to come on top facing every league opponent. This is the first time in Roosevelt Boys Volleyball history that they have won a league title. So I asked Junior, and starter Thomas Kendig, "How it feels to be league champs? Who was your toughest competition? What was his reaction to clinching first place?" and, "What are his expectations for the rest of the season?"
Kendig responded,"It feels pretty good because last year we were so close and almost won league. Our toughest competition was probably La Sierra because they exploited a lot of our weaknesses but made us fix them and become a better team. When we clenched it I felt proud because we are the first volleyball team at our school to win league. Our expectations are to stay undefeated in league and go far in CIF."
Congrats to boys Volleyball on the league title and for making ERHS history. Mustangs go support your Boys Volleyball team on Tuesday at King, and during CIF playoffs.
About the Writer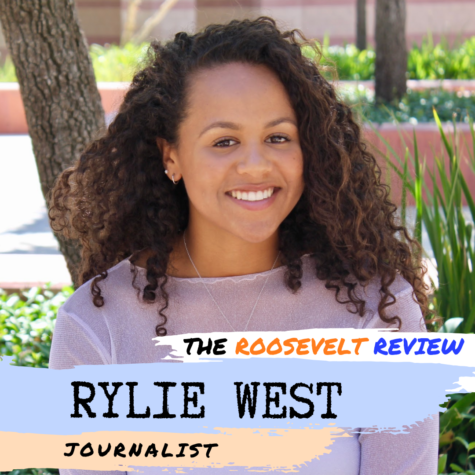 Rylie West, Journalist
Welcome back Rylie West to the Roosevelt Review. Rylie is a senior here at ERHS and enjoys writing and learning about the journalism field. Last year,...