This Week in Sports 3/25-3/31
Hang on for a minute...we're trying to find some more stories you might like.
What's going on Mustangs? As we dive further into the Spring season, our mustangs are on their way to victory and truly leaving their mark.
All Teams Schedule: Week of March 25-March 
This week in Boys Volleyball, Coach Carr and Coach Langarica have the boys bumping and spiking their way to a program history best 19-7 and a current 9-0 league record with 5 games remaining. They are on pace to earn their first ever BIG VIII League title and their 3rd CIF appearance in program history. The boys' next match is April 9 at Norco HS.
Golf
Coach Vanderweerd has got the boys chipping and putting their way to an undefeated 8-0 record and 4-0 league record. They have already gained over half of their required CIF qualifying scores in their first 8 matches. Their next match is at home course Goose Creek on April 9 vs. Centennial.
Softball
The girls softball program is off to an 8-4 record and a 2-2 record after recording one of their best comebacks in recent years to defeat league rival and #3 ranked Santiago. Your girls were down 7-0 after two innings and came back in the bottom of the 7th to score 4 runs to win. Your girls improve to 14-5 overall and move themselves into a 3rd place tie with Santiago in the BIG VIII standings.
Lacrosse
Your boys Lacrosse team won their first match in school history in defeating Hemet 9-2 last week. Their next match is Friday 3/29 at 7pm vs. Valencia.
Track and Field
Your Boys and Girls took care of business vs. Santiago yesterday in a rescheduled meet from last week. The Boys won 83-49 and the Girls won 95-41. The girls have averaged over 93 points a meet this season and the boys over 80. The Boys are on Pace to win their 10th league title, their 3rd straight and the Girls are on pace to win their 8th title, making it their 5th straight. Their next meet is at Home vs. Norco on 4/10 at 3:15 pm.
All information in regards to sports events courtesy of Joe Robles.
About the Writer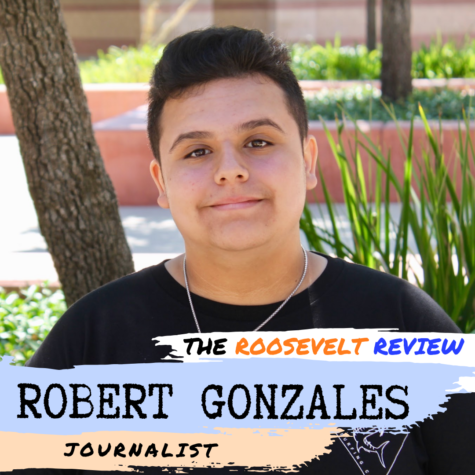 Robert Gonzales, Journalist
Robert Gonzales is a returning member and writer for the ERHS newspaper, The Roosevelt Review. He is currently a senior and plans on attending a university...