Review on Netflix series "You"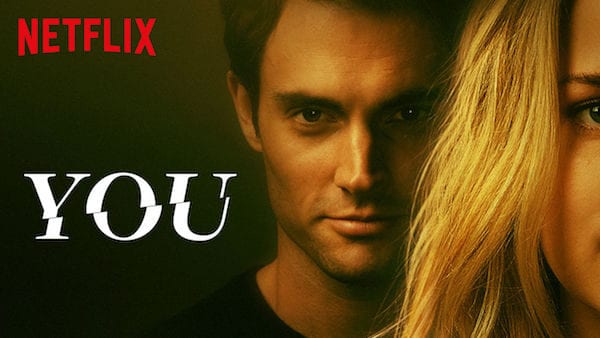 Lately there has been many good shows that have been added on Netflix and all other television platforms and so now that we all have binged watched all our favorite series during break, it is time to talk and catch up with everyone on how good or bad they were. I will personally start with saying that if you have have the time and would like to watch a great show series, you should head onto Netflix and begin watching a newly added show series named "You". Warning, this article does contain mild spoilers. This show will have you sitting on your butt for hours because as strange as it beings, it is exciting and scary in which it will keep you wanting to know more of what happens to the characters. If you are someone who has already finished this series, you will know exactly what I mean. Now to begin with, this show is more mature content and should not be watched around younger siblings but this series starts off in a book store where two people meet and connect but it ends back in the book store with only one of them remaining. This show carries strong content because of the obsessive behavior that the main character forms when he meets this girl, the story seems to start off on the romantic side but it quickly drifts to something dark with murders and as mysterious behaviors arise.
The main character who is named "Joe Goldberg" takes the main role in this series and we are given the insight into his mind as he begins stalking a girl he is attracted to, his thoughts and actions become really unsettling and his character is shockingly very likable even though his actions are horrifying. Through out this show the main character, Joe begins to be this very innocent type of guy to the world but it is only until we realize what he is secretly doing and thinking, it is very hard to feel safe around a guy like him, Joe's character is hard to not like and you will find yourself rooting for him even thought he is not a good person. Many moments during the series he has these characteristics that are hard not to like and it is scary because considering the person he is, you would not imagine a young guy like him to be a murderer and to have an overly obsessed attraction to girls he barely meets. The sequence of events during the show just continues to get more wild and not only is this show based around Joe, but also revolves of the girl he stalks and about her friends and family.
So many people are still talking about this show and how great it was, a fellow friend of mine said "I cannot stop watching because you do not know on whose side to be on and the story is not easy to predict (which is a good thing.)" This show series is also very well known on Twitter and people will not stop talking about it. If you have yet to watch this show, I suggest you head to Netflix and begin watching it over the weekend because you will not regret it. Now Finally, I Hope everyone had a great break and also to start this semester off in a positive way because everything counts.