Kevin Hart No Longer Hosting Oscars
Kevin Hart, the renowned comedian and actor, withdrew from hosting the Oscars due to outrage over homophobic tweets made from 2009 to 2011.
The Academy did not request Hart to remove himself from hosting the famous movie awards that last year 29.5 million people watched.
Several tweets resurfaced from Hart's twitter account saying "Why does @DamienDW profile pic look like a gay bill board for aids" among other hateful tweets. This specific tweet was from January 20, 2010. He has since apologized for hurting people and says he is "evolving" and will continue to do so. Yet he did not apologize for the tweets themselves, just pain they caused. He addressed this in an Instagram video and claimed he didn't apologize because he has apologized before for them and sees no point in going back to the past when he's moved on.
The last year or two we have seen a large influx in offensive tweets resurfacing in an attempt to negatively affect careers. We saw James Gunn lose his future in Marvel by a man motivated by politics, resurfacing tweets Gunn had apologized for several times since they were posted.
Kevin Hart is no exception to this attack on celebrities social media, he has apologized on Instagram and Twitter and gave up what was possibly a once in a lifetime opportunity, to host the Oscars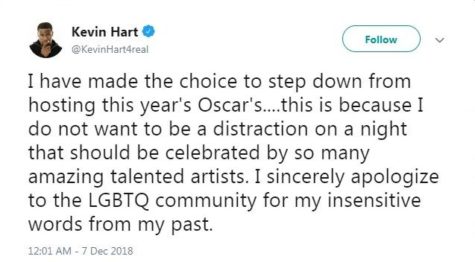 Bigotry and hate are not redeemable by fame, but the best thing about ignorance is that it can be erased with education and knowledge.