Tesla Collision
Hang on for a minute...we're trying to find some more stories you might like.
In Utah on May 11, 2018, a Tesla car was driving in "autopilot" mode when it crashed into a stopped firetruck.  The company has put blame on the driver, not the semi-autonomous driving system.
As the United States National Highway Traffic Safety Administration announced it was sending a team to investigate the crash, a confirmation came through stating that the vehicle's technology failed to prevent it from colliding with an object that was stopped in its path.
Officials from Tesla notified police that the driver, who suffered a broken ankle when her Model S crashed, had turned on the "autosteer" and "cruise control" features approximately 80 seconds before the crash and had  taken her hands off the wheel.
Even before this incident, Elon Musk's electric car company has been criticized a handful of times regarding how safe its autopilot feature truly is.  This allows the vehicle to assist drivers in navigation, but it cannot drive on its own.  Experts are warning that these semi-autonomous cars give drivers a false sense of security and it leads to them being easily distracted.
Mrs. Amanda Meyer, a psychology teacher at Eleanor Roosevelt High school has said she believes fully autonomous cars will be on the road, ready for consumers to buy and drive off the lot within "two to four years."  She has also stated ,"I believe the majority of the technology is there and Tesla is constantly working on making it better and ready full autonomous driving."
The 28-year-old driver in Utah was looking at her cell phone prior to the collision which resulted in her receiving a traffic citation for "failure to keep proper lookout", said police on Wednesday.
Tesla, as a company, wrote, "Drivers are repeatedly advised Autopilot features do not make Tesla vehicle 'autonomous' and that the driver absolutely must remain vigilant with their eyes on the road, hands on the wheel and they must be prepared to take any and all action necessary to avoid hazards on the road."
Her vehicle was travelling at 60 miles per hour when it hit the firetruck, and she manually pressed the break a fraction of a second before the collision occurred.  Tesla also came out and said that the driver's use of autopilot was "contrary to proper use."
Mrs. Meyer, who has recently bough a Tesla Model 3 does not think there will be any issues with her vehicle, as she has said, "Tesla has clearly stated that the current special feature mode is only a drivers assist mode.  Every time you turn it on it tells you to keep your hand on the wheel and pay attention to what you are doing.  The driver in Utah accident has already said she did not have her hands and the wheel and was not paying attention to the road she was using her cell phone instead."
Tesla's cars give out warning every time the car is put into a feature of what the driver must remain doing and the car is not autonomous.
While new technology is coming out onto our roads, we now must be more cautious than ever.
About the Writer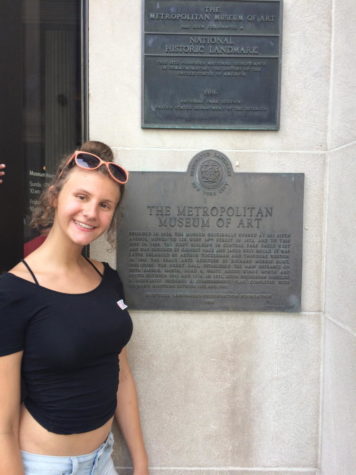 Maddie Gorrie, Journalist/Editor
Hello!

Writing has always been a large part of my life and as a senior at ERHS, I want to be able to explore all of the ins and outs of our school....