Trump Backs Out of Nuclear Deal
Hang on for a minute...we're trying to find some more stories you might like.
Today, Tuesday May 8, 2018, Trump has pulled out of the Iran nuclear deal. He has vowed to restore U.S. economic stations in Tehran, which will kill the Obama-era Iran nuclear accord.
French President Emmanuel Macron offered Trump another deal in which the United States and Europe would discuss concerns about Iran beyond its nuclear program.
Macron used a three-day visit to the United States in order to salvage the Iran nuclear deal, formally known as the Joint Comprehensive Plan of Action. Many people saw this as the best way to prevent Iran from getting a nuclear bomb and beginning a nuclear arms race in the Middle East.
With this deal, the US and Europe would block any Iranian nuclear activity until 2025. They would also address Iran's missile program and generate conditions for a political solution.
Iranian President Hassan Rohani immediately threw cold water on the efforts of Macron.
Rohani stated, "I have spoken with Macron several times by phone, and one time in person at length. I have told him explicitly that we will not add anything to the deal or remove anything from it, even one sentence. The nuclear deal is the nuclear deal." This was said at a conference in northwestern Tabriz after Macron announced the "new deal." On top of that, he says Macron has no right to amend the agreement.
In the end, Rohani only wants his interests to be guaranteed, but if not, they will not remain in the deal.
Rich Isaac, a common citizen of the United States states, "Trump will come to find that he will regret the decision in which he has made. Our country will pay for what the president has now done."
The fate of the 2015 accord was unclear since other countries who signed it, such as China and Russia, would agree to new measures against Iran.
Mr. Isaac also says, "I quite honestly believe that Iran is going to come up with a plan to get back at us and that is why they do not have an immediate response."
Since the United States backed out of the deal, Iran can continue building nuclear weapons again, and it is unclear as to what will be done next, as their response will not come out for a few weeks.
About the Writer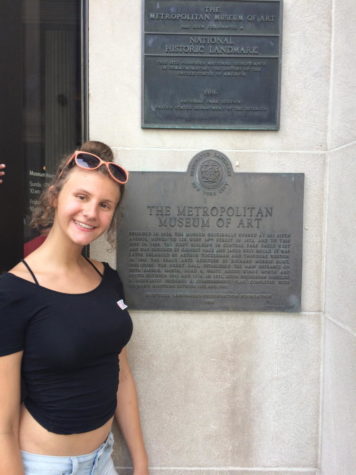 Maddie Gorrie, Journalist/Editor
Hello!

Writing has always been a large part of my life and as a senior at ERHS, I want to be able to explore all of the ins and outs of our school....