PSY & BTS'S SUGA Breaks the Media With Recent Collaboration!
'That That' Official Music Video
Can you guys believe it?!? We have two of the biggest K-pop idols in one music video. Recently, PSY (Park Jae-sang)  and BTS's SUGA (Min Yoon-gi) came out with their newest song, "That That," topping charts from across the world.
This isn't the first time we've seen them destroy the media with their presence. In 2013, PSY took the whole world by surprise with his single "Gangnam Style." This fan favorite was considered a major breakthrough for K-pop that I even enjoyed. Now he runs his own company, P Nation, with famous idols such as, HyunA, DAWN, Crush, Heize, and many more!
On the other hand, we have SUGA from the superstar boyband, BTS! Debuting in 2013, the rapper and his members are also loved from all around! His alter ego, Agust D, is a more edgier version that releases hell and isn't afraid to express another side of himself. Now, what is SUGA backwards? Agus. And where was the rapper born? Daegu Town. If you put those two things together, we have Agust D. Pretty genius, right?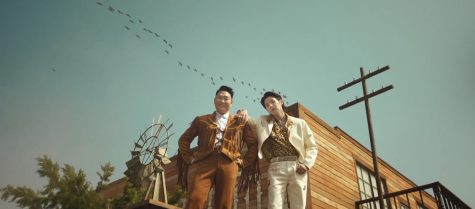 The entire vibe within the music video and the entire song is immaculate. It takes place in a western area that you normally see in movies.
"I genuinely love having a good time so I've always wanted to make a song that brings good energy," SUGA said in an interview. "Lately everyone's been a bit down, inevitably so we were predicting that when this song gets released…" PSY continues the sentence saying, "Days will be warm, on its way to summer so people would be warming up for a hot show." He also adds, "A song that embodies the transition from despair to hope, the end to a dreary winter. A song to guide you to a hot summer."
In the beginning of the video, you see PSY walking out of the bar with a smile on his face. He begins his first verse with, "2022. PSY coming back." He continues on to sing, "Long time no see huh? It's been a minute huh? We're back to laughing, crying, living, loving. Lets get loco. Pandemic's over uh. Yeah feeling amazing uh." What a great way to greet the audience and begin the song. It's an introduction so refreshing and relatable that I enjoy hearing. Iconic "Gangnam Style" PSY also made an appearance which had me screaming.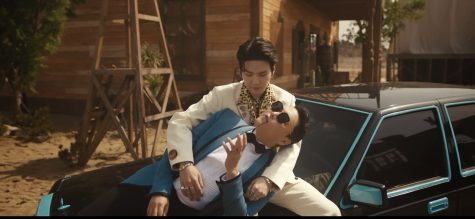 Throughout the rest of the video, we see him dancing within every angle and location until someone mysteriously jumps into frame. Is that a bird? Is that a plane? Nope, it's SUGA! You see him and PSY having an intense rap battle that quickly escalates to "Gangnam Style" PSY bleeding as he lays on SUGA's lap. (a true comedic duo) It quickly escalates to both of them and more dancers performing the choreography at every location of the western town.
Before collaborating, the two idols weren't complete strangers. In an interview with the both of them, PSY explained how BTS blew him away with their "sharp and precise" choreography at SBS Ikigayo during rehearsals. SUGA also revealed how grateful they were after the performance when the singer tweeted at them.
"What stood out to me the most while working with Yoon-gi was that he's equal parts artistic as he is commercial," PSY said in the interview. "It was so refreshing, his flexibility." SUGA also added, "He was, to me, very detail-oriented. He's been in the business for a long time so naturally he led me to the right direction. He made me feel at home while recording the song."
Full 'That That' Interview with PSY and SUGA!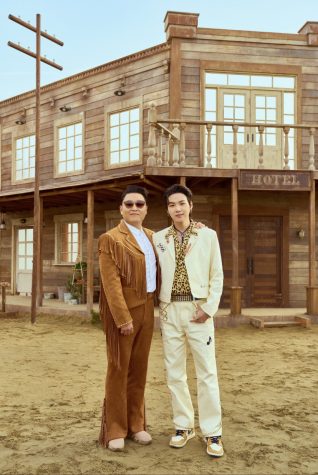 Did you guys enjoy "That That?" Let us know in the comments!! Thank you for reading!