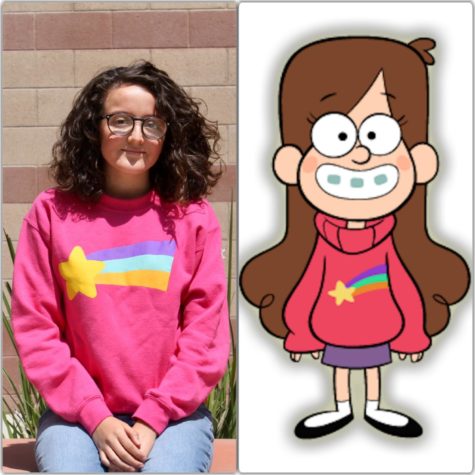 Nayeli Rubio is a junior at Eleanor Roosevelt High School. Prior to joining her current journalism class, she has written for her middle school newspaper,
The Colts Insider
.  In fact, she even came up with the name! She chose Mabel Pines of the cartoon
Gravity Falls
  because she relates to the character's carefree attitude. She also enjoys the little things in life like the character. She enjoys writing, reading, singing and dancing. She understands the importance of the internet in spreading information and hopes to give back to the online community that educates her on the things important to her.
Like Mabel, Nayeli tends to get distracted easily, but when she finds something she is passionate about, she will put all of herself into it. She tries not to take herself too seriously, but also is (surprisingly) quite mature. She relates to Mabel because both girls love their families- and pets-with all their hearts, and would do anything for their friends.
Nayeli Rubio, Managing Editor
May 24, 2019

New 'Adversity Score' Being Added to SAT

(Story/Media)

May 17, 2019

ERHS Powder Puff

(Story/Media)

May 03, 2019

The Second Annual "Seeds" Showcase

(Story/Media)

May 02, 2019

ERHS Poet Laureate Program Launch

(Story)

Apr 26, 2019

Opinion: The Necessity of Vaccinations

(Story/Media)

Apr 12, 2019

ERHS Physics Boat Races

(Media)

Apr 12, 2019

Color Guard Pep-Rally Performance Recap

(Story)

Mar 29, 2019

Captain Marvel Review and Reactions

(Story/Media)

Mar 22, 2019

California Super Bloom Attracts Thousands

(Story/Media)

Mar 15, 2019

Team Spotlight: ERHS Girls Varsity Lacrosse

(Story/Media)

Mar 08, 2019

Thrift Shopping

(Story/Media)

Mar 01, 2019

Club Spotlight: Girl Up

(Story)

Feb 22, 2019

Ice Cup Challenge

(Media)

Feb 22, 2019

Trump Declares State of Emergency

(Story/Media)

Feb 15, 2019

Join Journalism!

(Story/Media)

Feb 08, 2019

Student Mental Health

(Story/Media)

Feb 01, 2019

Polar Vortex Freezes Midwest

(Story/Media)

Jan 26, 2019

Twenty One Pilots Surprises Fans with "Chlorine" Music Video

(Story/Media)

Jan 18, 2019

Government Shutdown: What Does it Mean?

(Story/Media)

Dec 14, 2018

Celebrations for the Virgin of Guadalupe

(Story/Media)

Dec 09, 2018

CNUSD Poetry Showcase

(Story/Media)

Nov 30, 2018

Rapper Tekashi69 Arrested for Racketeering

(Story/Media)

Nov 19, 2018

ERHS Receives Donation from 7-11 Franchisee Owner

(Story/Media)

Nov 16, 2018

Winter Formal Theme Reaction

(Story/Media)

Nov 09, 2018

A First Look at A Series of Unfortunate Events Season 3

(Story)

Nov 02, 2018

Tree of Life Shooting Leaves 11 Dead

(Story)

Oct 26, 2018

Girls Golf Makes Roosevelt History

(Story)

Oct 19, 2018

Ariana Grande and Pete Davidson Split

(Story)

Oct 13, 2018

Homecoming Game Interrupted by Lightning Storm

(Story/Media)

Oct 05, 2018

Opinion: Should Advanced Musical Theatre Count Towards PE Credits?

(Story/Media)

Sep 28, 2018

End-of-Quarter Expectations

(Story/Media)

Sep 21, 2018

Willy Wonka Jr. Takes the Stage

(Story/Media)

Sep 14, 2018

The Anniversary of 9/11

(Story)

Sep 11, 2018

Should You Go Vegan?

(Story)

Aug 31, 2018

Hurricane Lane Floods Hawaii

(Story)