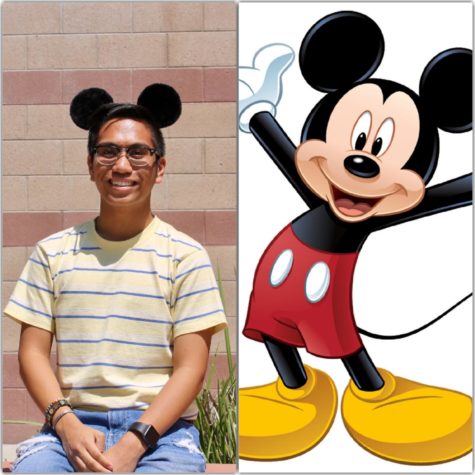 Joshua Dineros is currently a junior at Eleanor Roosevelt High School and writes for the student newspaper 
The Roosevelt Review
. He is a staff writer and the public relations manager for the journalism program. Joshua has an optimistic view on life which is why he relates to Mickey Mouse. Around campus you will see Joshua smiling and in a joyous mood. However, Joshua is also a hard worker throughout his classes, while simultaneously completing his tasks with a passionate purpose of serendipity.
Since he was a child, Disney has been a big part of his life because of his father's involvement at Disneyland in Anaheim, California as a Chef de Cuisine at numerous restaurants around the park. Throughout Joshua's early to mid childhood, he frequently visited Disneyland where he truly experienced the well-known slogan that Disneyland is "The Happiest Place on Earth." Joshua identified specifically with Mickey Mouse because of Mickey's openness and inclusion with everything that the character does, including his best efforts to take into account everyone else's happiness on top of his own.
Though this is Joshua's first venture into journalism, in the past he has maintained numerous personal and business websites, held leadership roles within clubs, and continues to be an active citizen within his campus and community.
Follow him on Instagram @joshuaasamuel or email him at
[email protected]
Joshua Dineros, Public Relations Manager
May 17, 2019

ERHS Powder Puff

(Story/Media)

May 03, 2019

The Second Annual "Seeds" Showcase

(Story/Media)

Apr 26, 2019

Campaigning for the Future of ASB

(Story/Media)

Apr 26, 2019

Roosey Report: Week 4/23-4/29

(Media)

Apr 19, 2019

Discovering Culture with UNITY

(Story/Media)

Apr 12, 2019

ERHS Physics Boat Races

(Story/Media)

Mar 29, 2019

eSTEM Building Update

(Story/Media)

Mar 22, 2019

Riverside County History Day

(Story/Media)

Mar 22, 2019

The Roosey Report: Week 3/19-3/25

(Media)

Mar 15, 2019

Teachers Taste Pi Day

(Story/Media)

Mar 15, 2019

The Roosey Report: Week 3/12-3/18

(Media)

Mar 08, 2019

Teen Dating Violence Awareness Day

(Story/Media)

Mar 01, 2019

"A Night in Verona": ERHS Prom 2019

(Story/Media)

Feb 24, 2019

Out on the Town: Pizza Press

(Story/Media)

Feb 22, 2019

Ice Cup Challenge

(Story/Media)

Feb 15, 2019

February Staff Spotlight: Heidi Oberdank

(Story/Media)

Feb 15, 2019
Feb 06, 2019

The Roosey Report

(Media)

Feb 08, 2019

CNUSD: National History Day Competition

(Story/Media)

Feb 01, 2019

Out on the Town: Tea+

(Story/Media)

Jan 25, 2019

Eastvale: Newly Released Questionnaire Results

(Story/Media)

Jan 18, 2019

Student Spotlight: Aydan Cortez

(Story/Media)

Jan 18, 2019

ERHS Boys Varsity Basketball beats Corona

(Story)

Dec 14, 2018

ERHS Students Win at 2018 CAAP Stand & Deliver Showcase

(Story/Media)

Dec 10, 2018

Out on the Town: Scramblers Cafe

(Story/Media)

Dec 01, 2018

AVID's Got Talent Show

(Story/Media)

Nov 18, 2018

Out on the Town: Little Buddha Thai Kitchen

(Story/Media)

Nov 09, 2018

ERHS Winter Formal Theme Reveal

(Media)

Nov 09, 2018

Player Spotlight: Michael Sahagun

(Story/Media)

Nov 02, 2018

ERHS Boys Water Polo: CIF Playoffs

(Story/Media)

Oct 26, 2018

ERHS Bathroom Beautification

(Story/Media)

Oct 24, 2018

ERHS Band and Color Guard: Football Edition

(Story/Media)

Oct 19, 2018

Out on the Town: Pita Street

(Story/Media)

Oct 13, 2018

October Student Spotlight: Sanika Subhedar

(Story/Media)

Oct 13, 2018

Byars Meets World: Hsi Lai Temple

(Story/Media)

Oct 05, 2018

ERHS College Fair

(Story/Media)

Oct 05, 2018

October Staff Spotlight: Michael Stanton

(Story/Media)

Sep 28, 2018

Roosevelt Reads: Banned Books Week

(Story/Media)

Sep 21, 2018

Byars Meets World: King Tut Exhibit

(Story)

Sep 14, 2018
Sep 14, 2018

Team Spotlight: ERHS Boys Water Polo

(Story)

Sep 07, 2018

Upcoming ERHS Musical: Willy Wonka Jr.

(Story)

Aug 31, 2018

Disneyland vs Six Flags: The Ultimate Senior Showdown

(Story)