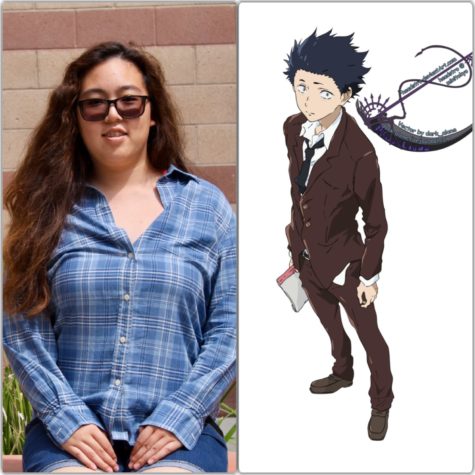 Hi, my name is Cher Wang, a senior at Eleanor Roosevelt High School. This is my first time doing journalism on our Roosevelt Review so please take care of me.
So, you may have been wondering why I have an anime character next to me in my profile. So, this anime character is someone that represents me. This anime character is Ishida Shouya from the movie, Koe no Katachi, or The Silent Voice, who is a troubled boy who bullies a deaf girl to vent out his frustration from his family. The conflict he has within himself and the people around him made me feel like he was something worth relating to. If you watched this movie, some would say 'Did you actually bully someone?'
Well, the answer is, no.
I am someone who does have a sharp tongue, but that was when I was little. I used to be picked on by some kids but it was never like a full-on bullying session. I just happened to meet the wrong people at the wrong time. And so, I feel like I can relate to Ishida Shouya because I used to have an inner turmoil that was always bottled up inside me. It was something that, I felt, not many people would believe me and I felt like he was someone that portrayed me but under different circumstances.
We all do things that aren't meant to be taken seriously and when you grow up, you realize the things you do wrong and try to make up for it. It's human nature and the guilt we feel inside us. In the end, I do think that he and I mended a relationship that shouldn't be broken because you'll regret it afterward when that person is really close to you in your heart.
Cher Wang, Writer
May 17, 2019

Class of 2019 Graduation

(Story)

May 10, 2019

New Collab Announced With Justin Bieber and Ed Sheeran

(Story)

May 03, 2019

State Dept. Gives the "Go" Before Congress's Approval

(Story)

Apr 26, 2019

BTS's Map of the Soul: Persona

(Story)

Apr 19, 2019

Horoscope Coverage

(Story)

Apr 12, 2019

Plus-Size Model Sparks Outrage Among the People

(Story)

Mar 29, 2019

Health Care Act Revoked?

(Story)

Mar 22, 2019

Google Entering the Gaming World

(Story)

Mar 15, 2019

Kpop Prostitution Ring Scandal

(Story)

Mar 08, 2019

Wear Green on March 15

(Story)

Mar 01, 2019

Book Recommendation on Wattpad

(Story)

Feb 22, 2019

Monsta X New Album Release

(Story)

Feb 15, 2019

NASA Astronaut for Senate Campaign

(Story)

Feb 08, 2019

The First Male Cheerleaders Being on the Superbowl

(Story)

Feb 01, 2019

Webnovel becomes the next Wattpad for the Chinese Novel Community

(Story)

Jan 25, 2019

Oscar Nominations

(Story)

Jan 18, 2019

PLT's Villain 'Manitto' Thoughts

(Story)

Dec 14, 2018

Studying Tips for Finals Coming Up

(Story)

Dec 07, 2018

Final Season of Game of Thrones Trailer

(Story)

Nov 29, 2018

Trump's Idea May Not Be As Much As Planned

(Story)

Nov 16, 2018
Nov 09, 2018

Colorguard Wins the Trophy

(Story)

Nov 02, 2018

Korean Rap is Making its Way to Main Stream

(Story)

Oct 26, 2018

Homemade Bomb Sent to Major Figures in America

(Story)

Oct 19, 2018

Cross Country Varsity Boys

(Story)

Oct 15, 2018

Homecoming Dance Recap

(Story)

Oct 06, 2018

Eastvale Fall Festival

(Story)

Sep 29, 2018

Tiger Woods Makes His Comeback

(Story)

Sep 21, 2018

Chinese Webnovels on the Rise

(Story)

Sep 14, 2018

Bike Race Gone Wrong

(Story)

Sep 07, 2018

USS Pueblo Crew Sues North Korea

(Story)

Aug 31, 2018

Disneyland vs Six Flags: The Ultimate Senior Showdown

(Story)