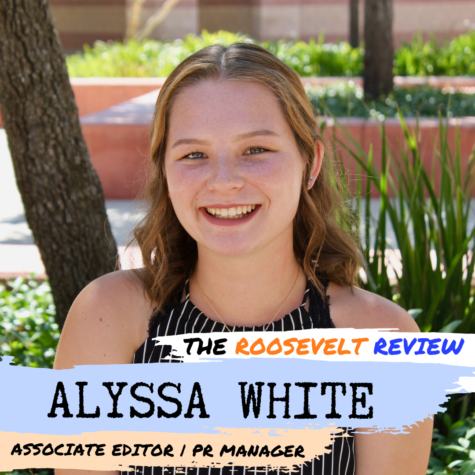 Alyssa White is a senior at Eleanor Roosevelt High School and is in her second year of journalism. She is the Associate Editor and the Public Relations Manager of the school newspaper. She loves being part of the newspaper because she is able to express her thoughts and she has made many new friends by being involved. Along with being in journalism, Alyssa is also the secretary of another club on campus, Puente, which focuses on diversity and academic success.
She is passionate about reading and hopes to be a successful author one day with her book on the NYT Bestseller List. Alyssa also has a love of writing poetry and fictional short stories.
She is best known for her love of Jesus, books, and iced coffee.
Alyssa White, Associate Editor
May 24, 2019

Book Review: The Caraval Trilogy

(Story)

May 17, 2019

Book Series Review: The Infernal Devises

(Story/Media)

May 10, 2019

Met Gala 2019

(Story/Media)

May 03, 2019

Summer Activities

(Story)

Apr 26, 2019

My Current Favorite Music

(Story)

Apr 19, 2019

Chicago: The Musical

(Story/Media)

Apr 12, 2019

Color Guard Pep-Rally Performance Recap

(Story)

Mar 29, 2019

Book Review: A Very Large Expanse of Sea

(Story)

Mar 22, 2019

Ways To Improve Yourself and Your Relationships

(Story)

Mar 15, 2019

Disneyland Builds Star Wars: Galaxy's Edge

(Story)

Mar 08, 2019

Santa Anita Racehorse Deaths

(Story)

Mar 01, 2019

Helpful Ways to Reduce Stress

(Story)

Feb 22, 2019

Apple Airpods Vs. Earbuds: The Ultimate Debate

(Story)

Feb 15, 2019

New York Fashion Week 2019

(Story)

Feb 08, 2019

Muslims Turn To Christianity After Living Under ISIS

(Story)

Feb 01, 2019

Book Release: King of Scars

(Story)

Jan 25, 2019

Deadly Class: Episode 1 Review

(Story)

Jan 18, 2019

Book Review: Queen of Air and Darkness

(Story)

Dec 14, 2018

Angry French Citizens Protest Over Unstable Economy

(Story/Media)

Dec 05, 2018

What Defines a Role Model

(Story)

Dec 01, 2018

Best Places to Visit in the World

(Story)

Nov 16, 2018

Club Spotlight: Rubik's Cube Club

(Story)

Nov 09, 2018

Affordable Gifts For the Upcoming Season

(Story)

Nov 02, 2018

The World Series: Red Sox VS Dodgers

(Story)

Oct 24, 2018

National Bullying Prevention Month

(Story)

Oct 19, 2018

Start Learning a New Language in Just Three Weeks

(Story)

Oct 12, 2018

Color Guard's First Competition Of the Season!

(Story)

Oct 05, 2018

Las Vegas Route 91 Shooting, One Year Later

(Story)

Sep 28, 2018

BOOKS BOOKS BOOKS

(Story)

Sep 21, 2018

Twenty One Pilots Release New Album "Trench"

(Story)

Sep 14, 2018

Williams Loses to Osaka in US Open

(Story)

Sep 07, 2018

Unity Shoe Drive Promotes Suicide Awareness

(Story)

Aug 31, 2018

17-year-old Brazilian Baseball Player Set to Play for the Toronto Blue Jays

(Story)