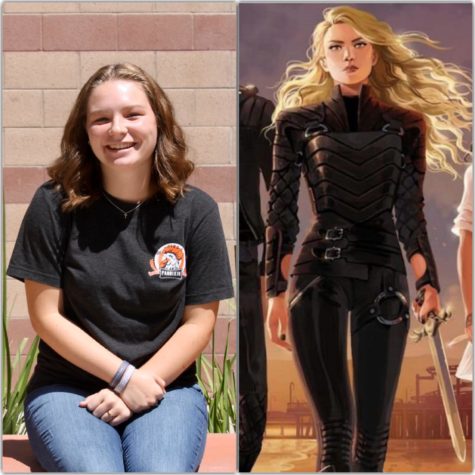 Alyssa White is a Junior at Eleanor Roosevelt High school. She is a very passionate reader who loves Jesus, books, and coffee.
Alyssa chose Emma Carstairs as her character reflection because she personally feels that Emma is a great fictional character to look up to. Some of Emma's characteristics include bravery, selflessness, and a fierce heart full of love, which are all of the things that Alyssa aspires to be like.
Alyssa loves reading books during her free time. Her favorite series is "The Dark Artifices" which has Emma as the main character. Alyssa has been to the 2016 Yallwest book festival and was given the opportunity to meet some of her favorite authors. Some of which include Jenny Han, Ransom Riggs, and Tahereh Mafi, all of which who have influenced Alyssa and her writing.
In the future, Alyssa would like to pursue a career in literature. She is not sure which topic within literature she would like to pursue, but she is open minded to the careers of editing, critiquing, creative writing, and possibly journalism.
Alyssa White, Writer
May 24, 2019

Book Review: The Caraval Trilogy

(Story)

May 17, 2019

Book Series Review: The Infernal Devises

(Story/Media)

May 10, 2019

Met Gala 2019

(Story/Media)

May 03, 2019

Summer Activities

(Story)

Apr 26, 2019

My Current Favorite Music

(Story)

Apr 19, 2019

Chicago: The Musical

(Story/Media)

Apr 12, 2019

Color Guard Pep-Rally Performance Recap

(Story)

Mar 29, 2019

Book Review: A Very Large Expanse of Sea

(Story)

Mar 22, 2019

Ways To Improve Yourself and Your Relationships

(Story)

Mar 15, 2019

Disneyland Builds Star Wars: Galaxy's Edge

(Story)

Mar 08, 2019

Santa Anita Racehorse Deaths

(Story)

Mar 01, 2019

Helpful Ways to Reduce Stress

(Story)

Feb 22, 2019

Apple Airpods Vs. Earbuds: The Ultimate Debate

(Story)

Feb 15, 2019

New York Fashion Week 2019

(Story)

Feb 08, 2019

Muslims Turn To Christianity After Living Under ISIS

(Story)

Feb 01, 2019

Book Release: King of Scars

(Story)

Jan 25, 2019

Deadly Class: Episode 1 Review

(Story)

Jan 18, 2019

Book Review: Queen of Air and Darkness

(Story)

Dec 14, 2018

Angry French Citizens Protest Over Unstable Economy

(Story/Media)

Dec 05, 2018

What Defines a Role Model

(Story)

Dec 01, 2018

Best Places to Visit in the World

(Story)

Nov 16, 2018

Club Spotlight: Rubik's Cube Club

(Story)

Nov 09, 2018

Affordable Gifts For the Upcoming Season

(Story)

Nov 02, 2018

The World Series: Red Sox VS Dodgers

(Story)

Oct 24, 2018

National Bullying Prevention Month

(Story)

Oct 19, 2018

Start Learning a New Language in Just Three Weeks

(Story)

Oct 12, 2018

Color Guard's First Competition Of the Season!

(Story)

Oct 05, 2018

Las Vegas Route 91 Shooting, One Year Later

(Story)

Sep 28, 2018

BOOKS BOOKS BOOKS

(Story)

Sep 21, 2018

Twenty One Pilots Release New Album "Trench"

(Story)

Sep 14, 2018

Williams Loses to Osaka in US Open

(Story)

Sep 07, 2018

Unity Shoe Drive Promotes Suicide Awareness

(Story)

Aug 31, 2018

17-year-old Brazilian Baseball Player Set to Play for the Toronto Blue Jays

(Story)