The Love for John Hughes Films
Hang on for a minute...we're trying to find some more stories you might like.
Today younger generations have learned to love and resonate with John Hughes films. Well known classic's of Hughes are Sixteen Candles, The Breakfast Club, and Ferris Beuller's Day Off. Each of these films carry the story of the life that revolves around a teenager in High School. Today teenagers are connecting with these films because of the honesty and hilarity seen within them, which brings to question why are teenagers today resonating with older films?
Today teenagers have been imprinted as robots that no longer have proper conversations; perpetrated to being cemented to cell phones, clinging to the internet at any costs. Why is it that teenagers connect to characters like Samantha Baker and Ferris Beuller when they never even had access to a cell phone in the 8o's? The fact is that John Hughes had the rare ability to carry the lives of teenagers with purity and honesty that fixates with multiple teenagers.
These films tell a different perspective of the youth, showing the pressures and pains they go through at such a young age. The honesty of growing up told through film has the power to emulate with teenagers that what they're going through is normal. When these lives are told truthfully through film those are the stories that will and are remembered  today.
In the 21st century we have seen a number amount of films that have taken Hughes strength in film making being, Perks of Being a Wallflower, The Spectacular Now, Juno, and recently Greta Gerwig's Ladybird. Each of these films touch upon the hardships and difficulties of growing up and experiencing new things at a young age.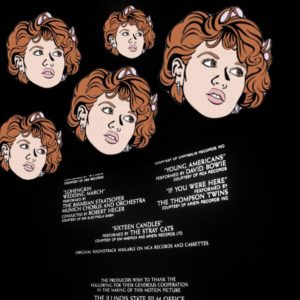 Senior Alexis Matias shares her viewpoint on why John Hughe's films are still see today, "They all depict a nostalgic, high school vibe of a coming of age story where teens discover who they are as a person." When asked if films like Juno and Perks of Being a Wallflower bringing more honesty when telling a teens life is important today she replied, "Yes because they're relatable and resonate with a wider audience. Everyone goes through their own problems, life isn't perfect and it's good that a sense of these realities are depicted in films."