Formula 1: United States Grand Prix
This past Sunday, October 23, was the United State's turn to host the Formula 1 Grand Prix.
It is a motor racing event that has been held inconsistently since 1908, during that time it was called The Grand Prize. There was also another big motor race called the Indianapolis 500. It was another one of the inaugural races during the first 11 years of the modern Formula 1 World Championship from 1950-1960. Former racecar driver Tavo Hellmund announced his plans to build a new F1 circuit, soon called, Circuit of The Americas. Helmund and his investors were awarded a ten-year contract to stage the US Grand Prix in 2012. The circuit is located 14 miles southeast of central Austin.
Lewis Hamilton is the most successful driver at the United States Grand Prix, with six victories, including five out of 10 races held at Circuit of The Americas. Recently, he passed up Michael Schumacher in the list with the most Grand Prix wins. He also recorded five victories at Indianapolis between 2000-2006. Hamilton became the first driver to confirm the Drivers' Championship in the US twice.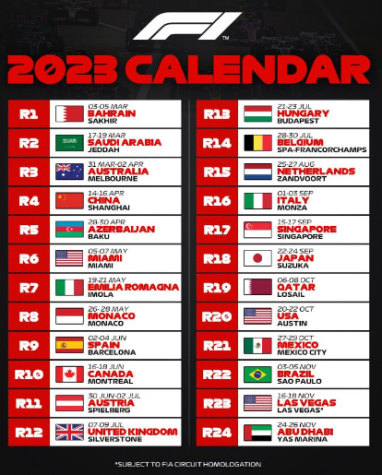 The most successful contractor at the United States Grand Prix is Ferreri, with nine wins. By 2021 Mercedes was the only other team to have won more than once at the Circuit of The Americas.
The top 5 final results of the race on Sunday were:
Max Verstappen (Red Bull #1) – his time was 1:42:11.687 with 25 points.
Lewis Hamilton (Mercedes #44) – his time was 5.023s behind Verstappen, with 18 points.
Charles Leclerc (Ferarri #16) – his time was 7.501s  behind Hamilton, with 15 points.
Sergio Perez (Red Bull #11) – his time was 8.293s behind Leclerc, with 12 points.
George Russell (Mercedes #63) – his time was 44.815 behind Perez with 11 points.
There was an incident that happened during last weekend's race. Fernando Alonso took the flag in seventh place, but on Sunday night, in Austin, Haas, an automation company logged a protest on the grounds that Alonso had finished in a car in an unsafe condition, following his high-speed collision with Lance Stroll's Aston Martin. Alonso was given a 30-second post-race penalty which meant he was demoted to 15th place, which made him lose six world championship points. Alpine, another team, disputed Haas's protest because it was too late, 24 minutes after the deadline. However, they did ask for new evidence and further hearing. Haas' original protest was deemed invalid, and Alonso regained his 7th place and six points from Austin.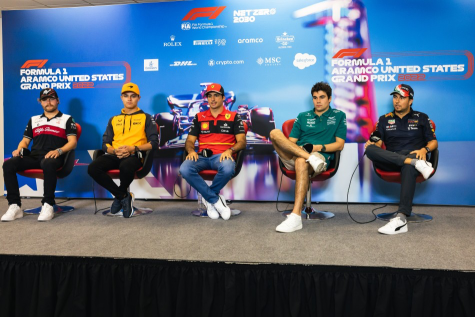 Adam Houri, an ongoing F1 fan for about 3 years, was surprised to see so many accidents during a dry race. Houri's favorite racer is Carlos Sainz, a Ferarri driver.
"He has a diverse background in racing, I also like watching his races, he makes exciting overtakes on the track, and he also has very good sportsmanship," Houri added.
For the next race, Houri wants Ferrari to secure more points for the constructors trophy, and he wants Ferrari to beat Mercedes. He comments that it is a very exciting sport, and he recommends that to anyone who wants to learn more about it, watch the Netflix series "Drive to Survive."
ERHS senior, Ethan Creel, has been an F1 fan for about 3-4 years now. His favorite racer is Lando Norris, he mentions he likes how he is a younger racer, because, "young fans of F1 can relate to him." As well Norris races for McLaren, his favorite team. Creel states his thoughts about Sunday's race,  "I was surprised about Alonso catching air after an incident with Stroll," he said.
Creel hopes that Norris wins the next race but at the same time he feels, "It would be nice for Perez to win at his home race, he has a great chance of winning because he has a great car and there is a good track."
The next race started October 28, and ended on October 30. It took place in Mexico.