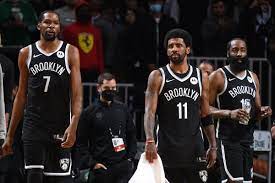 The NBA world was in shock a couple years back when it was announced that Kevin Durant and Kyrie Irving will be teaming up and playing for the Brooklyn Nets. Kevin Durant was recovering from an injury which left him sidelined for the 2019-2020 season leaving Kyire to carry the brunt of the load on Brooklyn.  Over the 2020 off season there was stir around the league that James Harden guard for the Houston Rockets that he wanted to join Durant and Irving. James essentially pouted his way out of Houston, showing up terribly out of shape and intentionally trying to get himself moved. His wish would be granted when the Rockets moved mountains in order to get James Harden gone. The Nets where set to be this powerhouse team, arguably the best big 3 ever assembled you had multi time all stars, MVP's, and Champions all playing on the same team.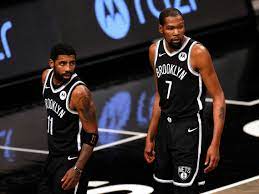 By far the favorites to win the Championship, when all of these guys are healthy look out they are the real deal.  For those of you who aren't familiar; Last year New York's mask mandate said that anyone who is not vaccinated is not allowed to be in indoor venues. Kyrie has been admit about  not wanting to take the vaccine and he is not allowed to play in the Barclays Center. So for a good half of the season it was Kevin Durant and James Harden carrying Brooklyn and they where very successful they where fighting for the top spot in the Eastern Conference, just on Christmas they where the number one seed.  On January 5th the Nets wanted to go all in on a championship and attack the final stretch of the season by bringing Kyire Irving back to play during road games, so he would be playing part-time.   The big three was back but for only a couple of weeks when Kevin Durant went down with a knee injury against the New Orleans Pelicans and he has been out ever since. In his absence the nets have amassed an 8 game losing streak and have dropped from the one seed to the seventh seed.
So James Harden has a player option at the end of this season which means he can potentially leave Brooklyn and walk as a free agent at the end of the season.  He has expressed displeasure with the situation with Kyrie; Harden and Durant have both made sacrifices in order to have a title run Kyrie has not. If I'm Steve Nash and the Nets organization I am seeing what compensation I can try and get for Irving.  Can the Net's figure it out and still potentially make a title run if you ask me it only depends on Kevin Durant coming back healthy.