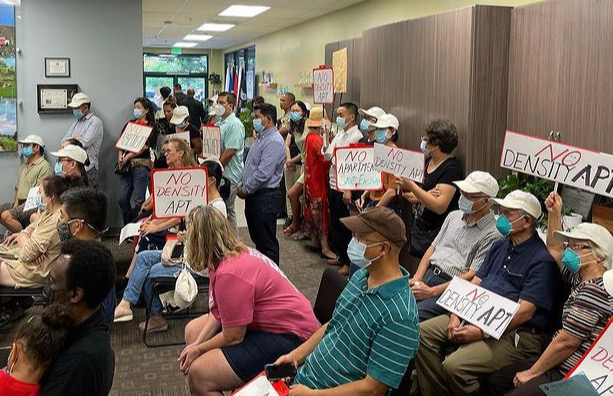 InformedEastvale on Instagram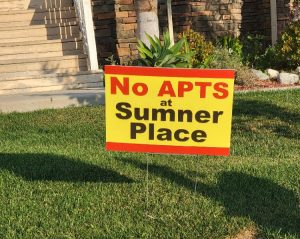 An Eastvale City Council meeting held on July 28, regarding allocation for new housing in Eastvale, brought controversy after a proposal for high-density apartments to be constructed on the corner of Sumner and Schleisman. Over 50 residents came to the meeting to voice their opposition to this project, taking over four hours of the meeting time alone.
If you live near or around Eastvale, you may have noticed some signs and banners posted on people's properties saying "No APTS [apartments] at Sumner Place" or "NO on Sumner/Schleisman High-Density Apartments," which are calling for an end to any future progress or planning for this project.
The City of Eastvale has been required to allocate construction sites for 3,028 housing units to be built for the 2021-2029 planning period, 1,129 (around one third) of those units being used for higher-density housing such as apartment complexes or townhomes. As 90% of Eastvale's land has already been developed, it has been a challenge for the city to allocate 250 acres of potential land to meet these requirements. The proposal for Sumner Place would meet a portion of those requirements, but the project had been requested by the private owners and contractors of the property rather than the city.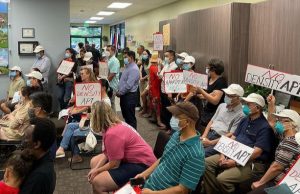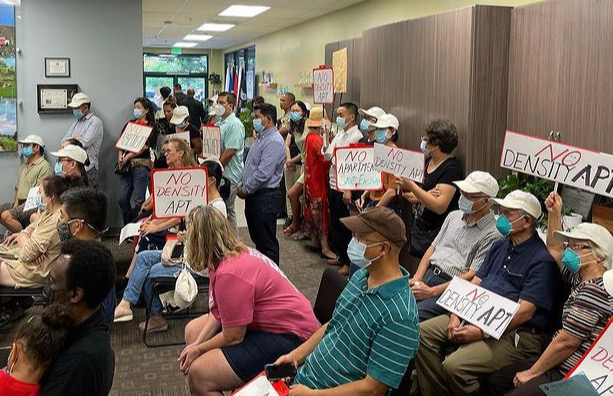 Many of the residents speaking out against this are opposed due to the location of Sumner Place. Having 3 public schools placed beside each other in the block, there is a lot of traffic congestion in the surrounding areas, and people fear that additional housing and residents in the city will worsen the traffic. One of the speakers and a resident of Eastvale for over 7 years, Robert Thomas, voiced his concerns.
"We've seen an increase in traffic. The streets around the high school – the middle school, is atrocious during the morning and afternoon. You can't even drive down Orange [street], " said Thomas.
On the other hand, this high density housing would provide affordable housing to low income families and individuals. Some residents feel that the lack of housing in Eastvale that is accessible and affordable to everyone prevents many people who are already struggling from being given the opportunity to live in Eastvale. Keith White, a disabled resident living in Swan Lake says that this is discrimination.
"If it weren't for my friend I would be homeless right now. On the streets… I moved to Eastvale because it's a good city… I am low income but it doesn't stop me from being a citizen of Eastvale… It seems like you guys are putting me down because I am disabled and on the waiting list for more affordable housing… Where will the disabled people go? where will the senior citizens go? where will the families that have special needs kids go?" White said.
According to the California Legislative Analyst's Office, "Over 1.5 million low-income renters [in California] face even more dire cost pressures – spending more than half of their income on housing." With this and the Coronavirus pandemic, housing has become unattainable for many people living in California. The addition of higher density housing in Eastvale would give more people the opportunity to live in a safe, active, and involved community that the City of Eastvale is.