In 2020 there as been a lot of "firsts". The first time entire professional sports seasons were canceled, collegiate sports seasons were canceled mid-season, schools shut down for the rest of the year, and endless live virtual shows. One of the highest anticipated live show for football enthusiast is the annual NFL draft. Football fans after months of inactivity regarding their sport look forward to seeing their favorite college players get drafted by NFL teams. NFL fans look forward to the draft to watch their favorite team pick up new talent. With COVID-19 continuing to be a prominent disease the NFL canceled the in-person draft the would have taken place in Las Vegas, Nevada, and moved it to every coach, players and fans' home. The draft is split up between 3 days for all seven rounds, but the first round is the most anticipated gets one day for itself.
The draft was very unique this year because it was completely virtual. The Commissioner of the NFL was reading the picks of the teams from his basement and living room, every coaching staff from every NFL team had cameras set up in their house, and many of the prospect players also had cameras in their homes. The first pick of the 2020 NFL draft went to the Cincinnati Bengals organization and they selected Joe Burrow from Louisiana State University.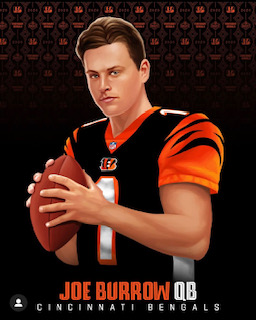 This was the expected pick because Joe Burrow had the greatest season of any other college quarterback, going undefeated to win a national championship. Many coaches and organizations followed Cincinnati's lead by selecting a national champion from LSU. LSU tied the all-time record for players drafted with 14 players in the  2020 draft.  LSU is from the South Eastern Conference (SEC) and in the first round, just under half of all the players drafted were all from a various amount of teams from the SEC.
The next 6 rounds were divided by the next two days. The SEC continued its trend of domination and had 63 picks in the entire draft. The Big Ten had 48 players drafted. The Pac-12 had 32 players picked, the ACC had 27,  and the Big 12 had 21. The other picks were divided between the AAC, Mountain West, Conference USA, Independent, Sun Belt, FCS, and other divisions.