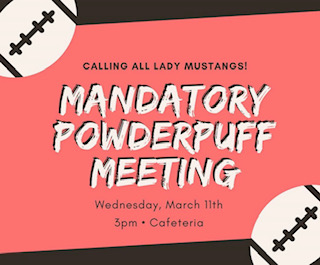 Via: @asb_erhs on Instagram
*All dates are tentative to change due to COVID-19.*
This past week on Wednesday, March 11 there was a powder puff meeting for all Juniors and Seniors who are interested in playing or coaching this year. If you missed the meeting there is a makeup meeting at 7:30 am on Friday, March 12. If you missed out on both of the meetings, you are in the right spot for a recap of the meeting. Ms. Isett the ASB adviser ran the meeting for the students in the Career Center on Wednesday and emphasized her excitement for the tradition we have here on campus. Some important dates to remember are the date of the actual Powder Puff game which is May 8, practices can only be on April 27-30 from 3-5 pm and May 4-7 from 6:30-8:30 pm. Those dates are only important if you qualify to play or if you plan on getting approved to coach. In order to play there are requirements that need to be met. One may not participate if they have an F, one may not participate with outstanding behavioral issues such as unattended Saturday schools, one may not participate without having an up-to-date athletic physical and one may not participate if they are on the "No Go" list for graduation. If you have any of those issues, they need to be cleared before you turn in the packet to the student store on Monday, April 13. The packet requires a parent signature whether you are 18 years old or not, the signature of the student who is participating, and it also comes with an order form for the official jersey and t-shirt. The Jersey costs $25 without a name on the back and an extra $6 to add a name. The t-shirt costs $10 and both the t-shirt and jersey come in sizes small- 3x large. Ms. Isett emphasized how important April 13 is because if the order form and packet are not submitted before that date you can not participate.
Senior, Makiah Green says she is most excited for, "All of us girls to come together. " She mentioned that she wants us to come together, "For the last time before we take on the real world." Also, a senior, Nataly Pineda, says, "I'm most excited to join up with my fellow seniors to have fun and hopefully win the game. It's the last game any of us will play in high school. #girlpower"
As for the coaches the rules have changed and it is a little more difficult to participate. For the first time, there can only be 11 coaches for the Juniors and 11 coaches for the Seniors. Each student who wants to coach needs to get two recommendations from two different teachers as well as all of the other requirements that the players have to follow regarding grades and behavioral issues. Once they submit two recommendations, there will be an interview set up. After the interview, the 11 coaches for each team will be picked.
The most important message from the meeting that is not listed in the packet came from athletic director Mr. Shires. Mr. Shires informed students that practices outside of the scheduled practice dates,  taunting or inappropriate posts on social media or person to person, and any unsportsmanlike act will result in disqualification.