The Wolves of Mercy Falls by Maggie Stiefvater
Hang on for a minute...we're trying to find some more stories you might like.
The Wolves of Mercy Falls written by the lovely Maggie Stiefvater is a series featuring three books. Shiver, Linger, and Forever with Sinner as a companion book to the original trilogy.
The first book follows Grace Brisbane and her life in Mercy Falls, including her fascination with the wolf pack behind her house. Also in Mercy Falls is Samuel Roth, home schooled and angst filled, as he tries to out run the cold that forces him to shift into a wolf.  If you stick around to the second book, you meet my two favorite characters Cole St. Clair, a man waiting to give himself over to the blissful simplicity of wolf life, and Isabel Culpeper, a girl waiting to escape the monotony of small town life.
I know, I know, that sounds so corny but it is so much more than a new Twilight.
The first time I read this book I was in middle school. I had just finished her series The Raven Cycle and needed a new Stiefvater fix. How was I supposed to know it would become my new obsession?
Stiefvaters use of diction and metaphors paints a beautiful back drop of the small Minnesota town and the atmosphere associated with magic. Her descriptions vary extensively depending on which characters point of view the chapter is being read in. Cole's pov is always scattered with sarcastic remarks, interjected judgement, and very needed bluntness. To mirror, Sam's pov is always delicately worded giving way to Sam's love of language and complex thought or spent dancing around subjects until they are unavoidable. Her plot and specifically the werewolf lore she uses is wildly different from what is normally seen in the media and it makes her story so much more enjoyable because of the colds salvation and damnation for the wolves of Mercy Falls.
The most compelling portion of the story, at least for me, is the character relationships we encounter in the book. We note paternal, platonic, familial, romantic, and even some that I cant begin describe without the use of many lengthy metaphors. My two favorites will probably always remain Graces relationship with her parents and Isabel and Sam's tentative friendship. Sam describes Graces parents as "scatterbrained at best, distant and neglectful at worst". The dynamic of Grace being wholly independent from her parents while still vying for their attention is interesting especially when they decide to put on their parenting pants only to realize Grace has grown up while they were to busy to notice (a huge point of conflict in the second book). Isabel and Sam are so compelling because its hard to even categorize them as friends. In the first chapter of the second book Isabel tells Sam plans for her future but "in such a stark way that I didn't realize she was confiding in me the door went ding again, admitting another customer". They are wildly different yet this friendship balances them out. Isabel refuses to ignore issues and will force Sam to look at the bigger picture and his role in the dynamics of Mercy Falls while Sam is a confidant for Isabel and softens her into remembering the moment.
I bullied Alysa Link, ERHS junior and reader, into reading the synopsis for Shiver and her response was that she "would definitely read it." Hazel Lloyd, ERHS junior who read the trilogy, remarks that "it's a great quick read."
When we got talking together, Alysa stated, "The description give enough detail to make it interesting, and the hints of an almost impossible romance seems like it would be really good too." Hazel stressed how "the story line is engaging."
Overall, I am bias. Maggie Stiefvater is my favorite author and my undying love of Cole St. Clair leading me to reread biyearly because Cole St. Clair probably doesn't help said bias. However that shouldn't stop you from reading this book. Curl up on a couch with a blanket and nice cup of tea and let Stiefvater take you on a trip to Mercy Falls were werewolves exist and the cold is what you really need to fear.
About the Contributors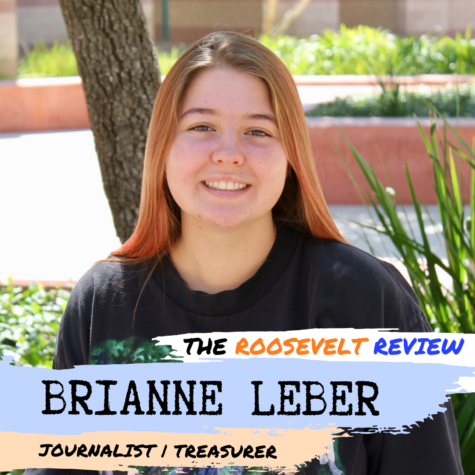 Brianne Leber, Journalist
Brianne Leber is a junior at Eleanor Roosevelt High School. She was drawn to journalism because of its ability to show different perspective to a large...