ERHS Bathroom Beautification
Hang on for a minute...we're trying to find some more stories you might like.
Over this past weekend, numerous programs here on at ERHS partook in a campus-wide project known as the ERHS Bathroom Beautification. Organized by our ERHS counseling staff, students took on the task of repainting the restroom stalls in all of our bathrooms here on campus.
Since October is national bullying prevention month, in conjunction with Corona-Norco Unified School District, our campus is beginning the campaign of #ERHSisKind alongside #CNUSDisKind. By using these hashtags, students, staff and parents can see the school and districtwide acts of kindness that are happening throughout the school year, especially in this month of continued kindness.
ERHS Counseling
The idea of beautifying the bathrooms on campus came from the counseling department where they believe," Kindness, positivity and self-worth is such a huge part of the social emotional self, so we thought having inspirational and uplifting quotes in the student restrooms would be a great way to foster that."
Kara Marshall who spearheaded the behind the scenes creation of this project wanted Mustangs to know and more importantly remember that, "I'd love for all Mustangs to learn the importance of kindness. A simple gesture, saying hello or good morning, and even smiling at each other makes the world so much easier to navigate. If we can all think about how those kind actions affect us when we are the ones in need of kindness, then we all might be more apt to spreading it ourselves."
ERHS Peer Counseling
Tracy Gamache, the advisor of the ERHS Peer Counseling team believes the bathroom beautification, "Worked in two folds, we can beautify our bathrooms while in turn spreading kindness and love. For peer counseling, our goal was to spread the message of love and support to make students remember that they are loved. We understand that each student struggles."
Gamache continues onto say, "We want students to know that even though that we are a big campus, we are here for you. You can keep your head up. We love our campus and students and all we want them to remember is that they are loved and supported by us. All of the leadership groups here on campus genuinely care about each of our students. Everything that we do is for them."
Julia Guadalupe, a senior here at ERHS who had a vision for the bathrooms next to the science building on campus thought that the theme of those bathrooms should be science themed. Guadalupe gave examples of the pun-like message of hope such as, "You're unique, just like your genetic makeup," and, "Think like a proton stay positive."
The Outcome
Overall, the student body here at ERHS adores the bathroom beautification and congratulate all whom were involved in bringing the project to life. The merits are high around campus reinforcing the hope for continued kindness and most importantly, "Putting a smile on each student's face."
A congratulations to all of the programs that also took part in the bathroom beautification are Unity and Link Crew with advisor Annie Havard, art club with advisor Carrie Turang, Spanish Honors Society with advsior Eva Isset, AVID Leadership and advisor Jamie Muller, and ASB with advisor Michael Stanton.
About the Contributor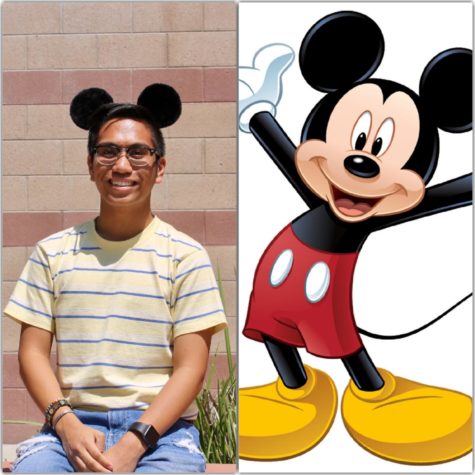 Joshua Dineros, Editor-in-chief
Joshua Dineros is currently a junior at Eleanor Roosevelt High School and writes for the student newspaper The Roosevelt Review. He is a staff writer...