Byars Meets World: Hsi Lai Temple
Hang on for a minute...we're trying to find some more stories you might like.
Once again, Kathryn Byars, an AP World History teacher here at ERHS, takes her students in WHAP Club on an adventure to visit new places that they wouldn't experience elsewhere. This time, she accompanied her students on trip to the Hsi Lai Temple in Rowland Heights, California.
The Purpose.
Visiting the Hsi Lai Temple according to Dilenn Gamboa was, "To gain a better understanding of Buddhism beliefs and experience the Hsi Lai Temple."
To sophomore Jasmine Concha, the purpose of visiting the temple was, "To experience what it was like and how we can relate what we are learning in class to what we see face to face, in person."
In AP World History, the students are learning about, "Religions/philosophies such as Christianity, Islam, Hinduism, Buddhism and such. Visiting the Hsi Lai Temple expanded on information within the Mahayana branch and in general information of Buddhism."
The Temple.
At the Hsi Lai Temple, Byars remarks, "I really enjoyed having the docent explain the art and statues around the temple to us. There is symbolism in every part of the temple. Even the stones on the ground of the courtyard were symbolic."
Moreover, Byars added, "I also really loved hearing the students ask questions and connect it to what they learned in class."
Sophomore, Jasmine Concha's favorite part of the Hsi Lai Temple was, "The tour guide made everything make sense. He put everything into our view of things. He basically made everything relatable to what we know and our views."
The Consensus.
Both Gamboa and Concha were thrilled with excitement for the Hsi Lai Temple, and Concha simply puts the Byars Meets World, "I always look forward to trips with Mrs. Byars because she always takes us places that are both fun and relate back to what we are learning at the time."
Byars' next trip is still in the planning, however she revealed to The Roosevelt Review that she can take a group of students to the Maritime Museum in San Diego as they learn about the Age of Exploration within their classroom. Good luck and keep exploring Mustangs!
About the Contributor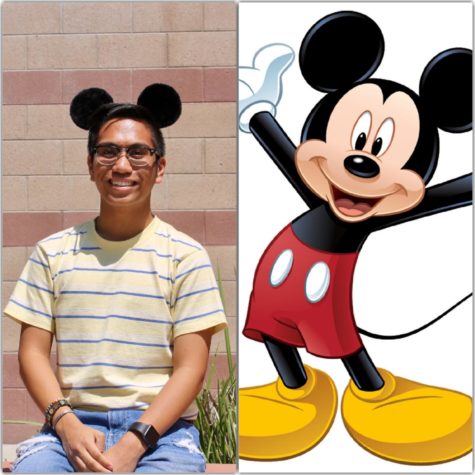 Joshua Dineros, Writer
Joshua Dineros is currently a junior at Eleanor Roosevelt High School and writes for the student newspaper The Roosevelt Review. Joshua has an optimistic view on life which is why he relates to Mickey Mouse. Around campus you will see Joshua smiling and in a joyous mood. However, Joshua is also a hard worker throughout his classes, while simultaneously completing his tasks with a passionate purpose of serendipity.
Since he was a child, Disney has been a big part of his life because of his father's involvement at Disneyland in Anaheim, California as a Chef de Cuisine at numerous restaurants around the park. Throughout Joshua's early to mid childhood, he frequently visited Disneyland where he truly experienced the well-known slogan that Disneyland is "The Happiest Place on Earth." Joshua identified specifically with Mickey Mouse because of Mickey's openness and inclusion with everything that the character does, including his best efforts to take into account everyone else's happiness on top of his own.
Though this is Joshua's first venture into journalism, in the past he has maintained numerous personal and business websites, held leadership roles within clubs, and continues to be an active citizen within his campus and community.