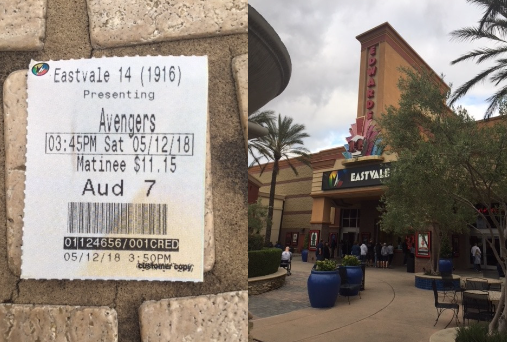 "Avengers: Infinity War" makes $1.6 billion overall, opens big in China
May 14, 2018
It looks like Earth's mightiest heroes in the form of the Avengers continue their triumph at the box office as "Infinity War" has made about $1.607 billion total – that's here in the U.S. plus foreign nations playing the film – so far. This is due, in part, thanks to the film's huge opening in China, where it collected $200 million from Chinese moviegoers, the biggest opening weekend ever in the middle kingdom for an international American film.
This weekend, "Avengers: Infinity War" added an estimated $61.8 million here in the states over the weekend including Friday, totaling out the flick at $548 million domestically. This puts the film within the top 10 highest grossing films in the US at number 8, in between "The Dark Knight" ($535 million) and "Star Wars: The Last Jedi" ($620 million). The weekend earnings for the film had a fair 46% drop from the earnings of last weekend, which was $115 million. In other words, "Infinity War" still remains king here in U.S. cinemas.
Overseas, "Infinity War" totals at $1.060 billion so far, with a part of that large chunk of cash coming from the 2nd largest movie-going nation China, as said earlier. At this rate, it is possible that the film will make more than $2 billion if it can remain a solid film that moviegoers still want to see all through summer.
As for other movie releases this past weekend, Melissa McCarthy's new comedy from Warner Bros. titled "Life of the Party," directed by her husband Ben Falcone, made a mere $18.5 million, while the Universal Pictures thriller "Breaking In" starring Gabrielle Union clocked in only an estimate of $16.5 million, proving that "Infinity War" is still the talk of the town right now.
Most ERHS students saw "Infinity War" when it was released all across the US on April 27, and their reaction to the film could help explain why it is so tremendously successful financially as the film is very effective in entertaining audience that included most of the campus's student body.
One ERHS Senior by the name of Kevin Tao said that "Infinity War" "was a good film" and that its success was due to how good it was as well as the "hype" it has been getting from audiences. "Yes, it is possible for the film to reach $2 billion," Tao said.
It is also worth-noting that "Avengers: Infinity War" is part of a successful popular film franchise, the Marvel Cinematic Universe, or "MCU," that has brought forth 19 films since the first "Iron Man" movie was released 10 years ago.